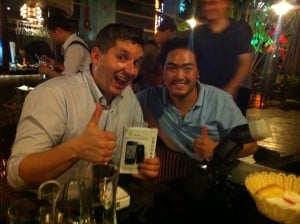 So many events these past couple weeks, as well as the weeks ahead, but last night (Friday) was a relaxed and effective meetup for the Shenzhen startup and hardware community to meet John Biggs, a gadget editor on techcrunch and share their products and startup ideas.
I had gone to the wednesday Hong Kong meetup as well, with Rafael as we were doing some banking and accounting documents in Hong Kong anyway, and the Hong Kong, in the first meeting of two at this ad hoc Shenzhen and Hong Kong meetup John put together – was mostly financial companies and "guys in suits". A few familiar faces were in Hong Kong, like Andrew Leyden and Bill Liang, but for the most part, somehow the financial industry took up most of the space in HK's event.
So Rafael and I got some ideas on how to build on that for the Shenzhen meetup, bought a "x-stand" banner for the front of the Le Bistro Bar so people could better find the place, we also wanted it to be a bit more interactive than what we saw in Hong Kong – as it was mostly just "meet and greet" and a bunch of the attendees there were expecting a bit more structure.
One annoying thing was the Le Bistro website we linked for directions got hacked…so I was getting a huge inflow of texts and calls and emails on how to find the place…as they couldn't see the website. (sigh….but this is China, so we need patience)
We didn't do a count, but at one point Rafael counted 42 people, a little heavy on the foreigner side, but still represented well with Chinese startups.
About 8pm we moved to the back of the outdoor patio and Dave Ho had the idea to put the chairs in a roundtable style. We got a microphone and passed it around so everyone could get their "30 seconds of fame" and plug their business or product.
A few that I saw (I'm sure that John Biggs will get a full writeup):
Iphone controlled remote control car
James Sung (in main photo next to John)'s Peel, that turns an itouch into an iphone
Dian Boom – a 3d social shopping platform
Hubertus and his patented (and therefor highly secret) mobile phone hardware invention.
Tully and Mitch talking about the Shenzhen hackerspace and their product development and hobbyist products
I didn't get to see all the products and ideas, I let them line up and wait to discuss one on one with John himself.. I could see he was exhausted, after Techcrunch Disrupt in Beijing earlier in the week, then coming directly to the HK meetup Wednesday night, then some HK traveling Thursday – to Shenzhen Friday morning to see Foxconn – I could only imagine how tired he must have been. But he did take time to talk to anyone who wanted to pitch to him.
Again, I'm glad he took the time to come out to Shenzhen and meet the community. Its one of the benefits of working so hard keeping these meetups going, being able to connect people at these special events.
Once John blogs, I'll cross link his experiences and remarks.