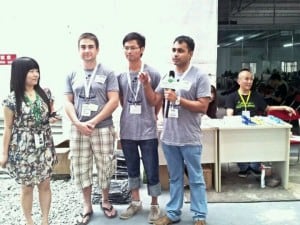 Noticing the majority of my recent blog posts are all about Startupweekend! It is true though, having April's Shenzhen startup weekend at Tencent, and then going to Seattle USA startup weekend 2 weeks ago, and now this weekend's first Guangzhou event. I am talking Nik and Kawai, about future plans for Startup Weekends in China, expansion plans, and how much time commitment we want to put into this. Sponsors both globally and in China support these efforts.
I came to Guangzhou early Thursday morning, to ensure the venue had all the equipment and layout we needed. Met the venue's host company, Ziipin Mobile, which is a Guangzhou and Singapore based mobile app and social media company. Spent the afternoon getting to know the staff and the boss, Rex. Went out to a late night BBQ with them on Thursday, chit chatting about how the Startup Weekend format would go, and they were really impressed with the names of mentors and judges that were attending. Made them proud they had these famous startup experts coming to their location.
I started to realize, this could be an awesome thing to do, going to different cities all over China, spreading startup weekend formats, finding local organizing teams – an "evangelist" as some of the guys in USA Startup Weekend HQ told me, like a foreign ambassador for US Startup weekend. But anyway, still brainstorming over the weekend.
Friday night was a bit HOT and passionate!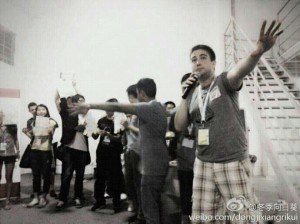 The venue was a 2 floor warehouse converted into a tech startup, with the inner room A/C and the outer room bigger but not air conditioned. We made best with what we had, placing industrial fans around the room, setting up the room in an audience format. No one in the room had experienced a startup weekend except Kawai, Nik, Amy, Jack Chen, and myself. All others were awaiting instructions and the introduction. Starting at 7pm, we got the room excited with a huge applause. 82 entrepreneurs came, and a ton of mentors and volunteers ready to assist. We are still tweaking the China / USA versions of Startup Weekend, trying our best to uphold the USA format while allowing the new Chinese entrepreneurs to follow along. Pitchfire started (where entrepreneurs come up to the front of the room and have 1 minute to pitch their idea) and we wrote down on a single piece of paper each idea, sticking it on the glass wall. All participants had 3 post it notes to place on their top picks, and then we took the top voted ideas and assigned them to the winner to recruit their teams.
It always gets a bit crazy, and it helps "digest" the idea, developing and pivoting the idea to the other participants suggestions. Also another cool thing I learned from USA was to use colored nametag lanyards, to help identify programmers (red), designers (green), and business / marketing (blue). That helped speed it up as people knew which people to try to recruit in the crowd.
We ended up with 13 teams, as below. Putting the Chinese in there as well. About 5 foreigners, and 77 Chinese – so this weekend has been predominantly Mandarin Chinese language:
Startup Name in English (Startup Name in Chinese)
Angels' Network Website 天使网
Car Sharing 搭便车
Skin Care SNS 护肤网hufu.com
Promotion auto accessories in CIS 汽车用品独连体
Tushuo – Mobile Social 图说
Cloud Fastfood 云餐厅
Share now 实时定位分享APP
Baonian.net(copy-honest.com) 包年优品电子商务网站
Love Time Machine 爱情时光机
In touch 保持通话 – 移动APP
Driving Change 驾驶全方位
Life Knowledge Management 人生知识管理
Looking For Designer.com 寻找设计师
Saturday cramming into teams + A/C venue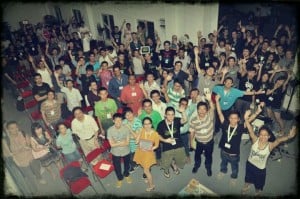 Saturday we were able to cram all the teams inside the air conditioned space of the venue, with the mentors and volunteer check-in desk outside with the fans and fresh air. Brought a big couch downstairs for the mentors to hang out on and talk casually with the teams. 4pm check-in on Saturday to see where the teams were.
An interesting point was that most mentors were foreigners. Don't really have an answer for that, except that maybe because 2 of the 3 organizers are foreigners (Nik and me).
Sunday, today is crunch time!
Typing up this blog post 3:30pm on Sunday, in a bit we'll collect pitches and setup the room for the 6pm judging.
I'll try to update this blog post with photos and the top picked teams.
We had some reporters here asking about the differences I have noticed between China and USA startup weekend, but I'll save the answers for a future post.
Rock on, energized, and thinking how often and how much energy to invest in China startup weekend!
Video of GZ startup Weekend
Here is a video from the weekend, we took Sunday afternoon w/ Kawai, Nik, and myself