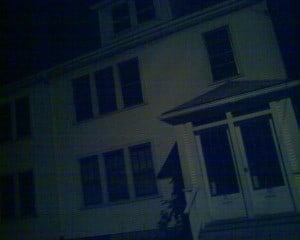 As I sit in the airport in manila, man, I am thinking of the past 3 hour bus, taxi, customs clearance battle. And that is what it is – a BATTLE. Then I remember back to grade school times, and waking up so early in the morning, maybe 7am – my mom would have prepared some hot oatmeal (I would put tons of sugary honey inside it), my dad would be leaving for work around 7:30am, I would normally wave from the window has he backed out of the driveway. My sister Jocelyn and I would then normally have things finished and walking out the door around 8:15am to walk to school by 8:45am. My mom, sister and I would normally sing a rather strange chant that my mom taught us.
GO, go, go-go-go-go.
Fight, fight, fight-fight-fight-fight
Win, win, win-win-win-win
GO – FIGHT – WIN
I don't know if my typing it out is the same as actually hearing it said outloud, but it was a pretty inspiring little morning chant. My mom would kiss us goodbye and Joc and I would head out the front door to walk to elementary school.
Of course we didn't sing that EVERY single day, but when there were days we were dragging, one of us would start it and the others would have to join in. It INSPIRED US. We were going to school, preparing for "battle" of the day – to get out there, go and do it, challenge yourself, and come back with a score, with a win.
I wish I kept more photos from the old school, but I was able to dig up this photo my friend Andrew had taken a few years back for me – this is the house I grew up in in Hartford, Connecticut. It was a 2 family house, and I was on the first floor unit. So much history when I look at this house, the days cleaning up around the front and back yard – the times running up the front steps quickly to come home for dinner. Friends visiting, normally waiting outside on the stoop. Neighbor disputes, or friendly neighborhood gatherings playing down the street some kickball or tag or whatever.
But yes, it is a Go-Fight-Win kind of life. We all move in our own separate ways, help each other out as best we can along the way – but we are all on our own when it comes right down to it. To get from one point to another, I don't know anyone who travels that whole path with a group of others alongside.
Anyway, this inspired me again, thinking back to those school days chanting to get out there, work hard, and score in the goal – GO FIGHT WIN