I'm really excited to be launching my 2nd book (first on Amazon) on my 34th birthday today! This year has been the best one of my life, and I expect next year to be even better than this.
So to celebrate, I have listed my second book, Destination China, on Amazon for free! As part of the KDP (Kindle Select) Program I can give it away free there for 5 days. It's my first experience on Amazon and already some problems – its 2:41pm in China on April 2nd, but still it isn't listed as free on Amazon- I think that is because it is 11:41pm time in Seattle (Amazon's headquarters) so hopefully in 20 minutes it will be free!
Here is the link http://www.amazon.com/Destination-China-Entrepreneurs-Journey-Business-ebook/dp/B00VGEKG3A/
Download it, read it, I hope you enjoy it – I also have a dedicated page on this blog at mikesblog.com/destinationchina where I put more info and updates as they come in. Please the best way to support the book is to leave a review on Amazon.
What's the book about?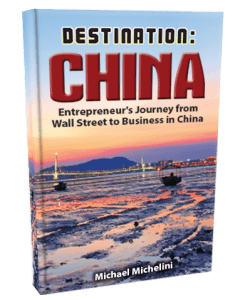 I titled it "Destination: China" because that is exactly what it is – my first year moving to China and getting my business setup. The ups and downs – the mistakes and the wins. I tried to not just talk about my specific story, but I also mention tips at the end of each chapter on what I recommend the reader to do in similar situations.
Hope you enjoy!
Amazon book description I wrote
Here is how I describe it on the Amazon listing:
Interested to move to China and start your business? Or maybe you're already here and looking for inspiration and an adventure to read. Destination China is a story about a transition from working on Wall Street in New York selling on eBay and websites part time turned into quitting the day job a trip to China that was supposed to be 1 month and turned into seven years (and counting)!
Who Is This Written For?
This book was written to the "Mike in his early China days", the entrepreneur venturing over to China to start his or her own venture and make it big. To strike gold in China. I wish this book existed when I was first coming to China – it is written by a young entrepreneur for a young entrepreneur. Each chapter I share the story and adventure, then to close up each chapter I write a few tips and recaps for takeaways you can plug into your toolbox when coming to China for your business.
Not an entrepreneur wanting to come to China but still want to read the book? Great, it is a fun one where I hold nothing back and share the the challenges, highs, lows, and horrible mistakes I made when coming to China. Keep you on the edge of your seat and ready to laugh at my ignorance, hope it is entertaining!
Also I hope professors and teachers of business and entrepreneurship can take a good read at this to understand their younger generation students. We learn by doing, but listening to stories and case studies. Theory only gets you so far from the classroom, but actually going out there into the wild, a student of entrepreneurship and business can blossom. So I welcome teachers and other educational instructors to give this a quick read.
If you're a parent and your child has decided to move to the other side of the world to grow their business this may be helpful for you to come to grips on why. I remember my mom crying in confusion when I told her I was moving to China, as she felt why would I leave America when there are so many opportunities here?
What You'll Learn By Reading This Book
Chapter 1: Leading Up To China Wall Street Get An MBA? Find a New Job? Do My E-Commerce Business Fulltime? Start a Franchise Saw China as the Future New Opportunity – Sourcing from China
Chapter 2: Take a Trip to China Arriving in Hong Kong
Cross Borders – Going to Mainland China Day in Shenzhen Confirming Which Cities In China To Visit Which Cities Did I Cut? My Shenzhen Trip Was Too Short First Taste of Internet Filtering
Head to Shanghai
South vs North factories
Finding Chinese E-Commerce Sellers Learning About Agents and Factories Halloween in Shanghai
Wall Street Connection
So Much, So Fast
Culture in Beijing
Chapter 3: Where to Live in China? All About Getting Things Done Faster
Departing Flight to China Tip
Deciding Where to Live
First 6 Months Living in China
One Night with Mr Wang
My First Hire
How To Incorporate my China Business? Localizing My Name
Chinese New Year Caving Kick Off New Lunar Year With Shanghai Trip
Start Building Internet Marketing Team Chinese E-commerce
Creative Warehousing
Watching the Olympic Torch
Setting up Chinese Company Better Investment than an MBA
First Online Sale in China – a Knock on the Door Ningbo Trip & Chengdu Earthquake Sticking To Business
Beds and Foreigners New Product Idea
Chapter 4: That Feeling When You Go Home
Hardest Is Leaving Family & Friends
Chapter 5: Rocky Road – Keep Pushing Back to the China Hustle Hiring and Firing Fallout with an Employee Am I Just Profiting off Cheap Labor? Understanding Grey Chinese Business Quality Control Nightmare
Emotionless Factory Owner
Starting a Blog in Chinese
My Passion Is the Internet Matchmaking
My Visa – Business or Work Permit?
Trip to a Chinese Hospital
What It'll Save You
This book isn't a cure-all for your China and international business needs, but it should give you a good overview. Read on, and remember life is an adventure and while should be taken seriously, we only grow
Here is the link http://www.amazon.com/Destination-China-Entrepreneurs-Journey-Business-ebook/dp/B00VGEKG3A/