The crisis continues – this time hitting the Western world and distribution. Last month it was about factories being closed and not able to make the product- now it is about Western countries / USA – being able to receive and ship it.
Can you believe yesterday, March 17, 2020 amazon suddenly announced it will not accept new inbound shipments to its warehouse for a ton of products except those emergency products.
Post here: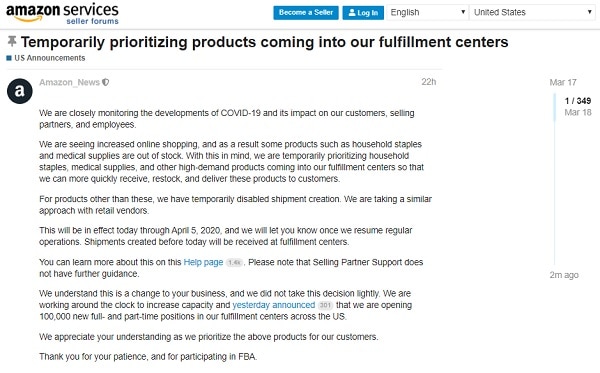 This is how fast it happened – just a couple hours before midnight California time (Amazon time) they said it – and people were furiously trying to get their orders in.
Talking to Wall Street Journal – they quickly came out with an article – hope this can get the attention of the world and make us all realize how third party Amazon sellers will be hurt by Amazon closing its doors to their products being stocked and shipped out.
Here's the Wall Street Journal Article: (Paywall)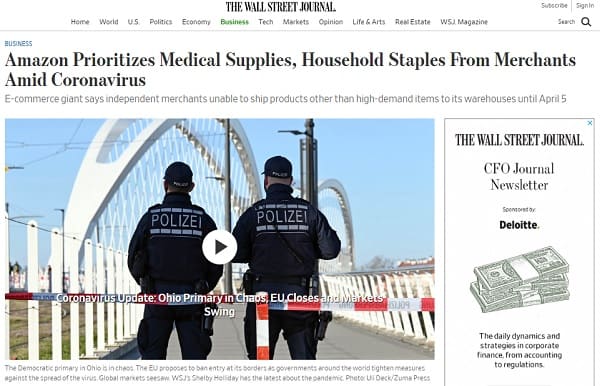 Can't see the article? Here's my quote – but unfortunately I cant republish their entire article online.
"This makes things nerve-racking", said Michael Michelini, a partner at Alpha Rock Capital, which sells around 10 brands on Amazon. He said he didn't know where to store shipment of goods – shoe and car accessories – that will be ready to ship from China later this week.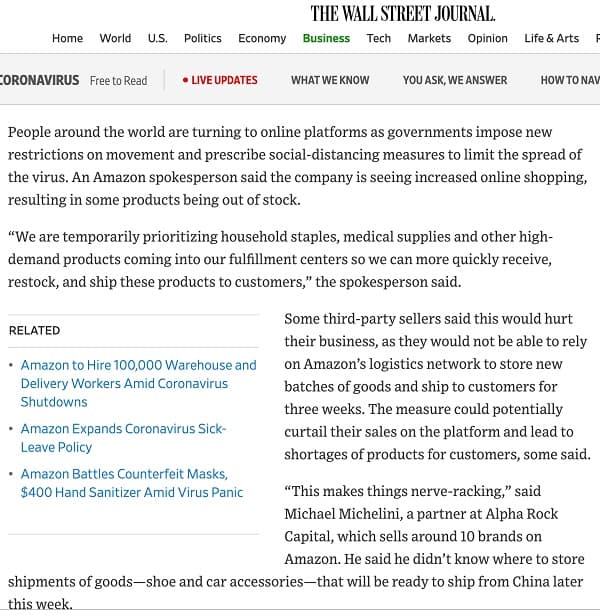 Let's All Stay Calm – but Can't Send New Goods to Amazon Until April 5
So my birthday is April 2, and by that time we still cannot ship new goods into the Amazon warehouse.
Amazon pushed everyone into their FBA (fullfilment by Amazon) system and now is closing its doors for a couple weeks. Alpha Rock Capital will make it through this – but many smaller sellers who happen to be shipping in goods that didn't get a shipping plan in time – will be getting crushed.