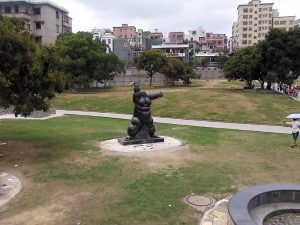 Bet that title got your attention! But it is true, so many Chinese people see a white face and think he/she is rich. Maybe its culture, maybe its tradition, maybe its how
In this post I put a statue I just saw recently in China, a fat Chinese guy. I'm told that a fat person in China means:
For example – when at temple, if there is a fat guard, the fattest one of the group is the happiest.
To me, this means a lot about Chinese culture…that:
money = happiness
It is really true, there is another saying, I think its better said in Chinese, but a rough translation in english:
A girl would rather be crying in the front seat of a BMW then happy in the back seat of a [insert cheaper car name]
I'm told that was a joke from a TV series about matchmaking, and the girl said that to become famous. But I can't help but believe money is so tightly ingrained into the minds of Chinese…..make money, save money, buy house / real estate.
Chinese are much more savers than Americans. Americans make money, but spend money just as fast. Chinese make money and SAVE money…that is the big difference….
The American dream is to get a steady job, get married, buy a BIG HOUSE, BIG CAR, fill the house with new furniture, have kids, and hopefully keep that steady paycheck to pay back all that debt you made, and then send your kids to college. Thats the American dream, really.
The Chinese dream – is there one? I think its to save money, maybe pay your parents money, they get face in their hometown that their child has made it in a big city away from home, and continue to save money, buy real estate. Buy more real estate, get a husband/wife, rent out your multiple houses, keep saving, keep making money. I think I'm pretty much right here?
I think Chinese would agree with me, in the culture money is the measurement for success, and success is measured as happiness.
But the "Chinese dream" is so rapidly changing. There are so many big differences between generations, what the grandmother / grandfather experienced to what parents to what current children are experiencing. I think a lot of the children now have seen such rapid growth in the Chinese economy….farmers turned into multi millionaires and factories growing exponentially making middle class, hard working factory owners international conglomerates. I think maybe this new generation of Chinese is a bit more light hearted, desiring to enjoy life more, spend more now, worry later. But time will tell.
My staff in China have always told me how much pressure they get from their parents to earn as much money as they can. That they are not living for themselves, but instead to earn money for their parents and their hometowns. Maybe this is also strategy for a raise, but I do believe this is part of the culture here.
China….its really an ever evolving culture.