That Weird Feeling Of Inviting Myself To Re-Enter China (China Visa from Thailand)
Why?
Because it has been about 10 years since I received my work permit from the Chinese company I invested in setting up in China (read WFOE 99999 article) and issued myself a work permit (ie self employed).
Since moving out of China, I am did not renew my work permit (it expired in December 2018). Still have the company there, but am no longer under a work permit.
So – for the trip up to China in about 10 days, I need to apply for a China visa from Chiang Mai.
I read this amazing article here on a China visa from Chiang Mai which helped a lot.
Here's my summary and experience:
Fill out the form – – 4 pages asking where you will go, the exact address, and more.
Passport Photo (2) – The passport photos needs a white background (it said "light background" in the form, but they said white in the China embassy)
Only open 9am to 11:30am – I prefer to do my deep work sessions in the morning and my meetings in the afternoon, but had to make an exception this time.
Note – you can delegate someone else to do this – so because I had to make 2 trips to the embassy, the second time my amazing wife Wendy went on my behalf.
Trying to get 10 years. They said it may be possible – but I have to show a reason why. Well, I own a company there, buy from factories there, go to trade shows there – hope that is a good enough reason.
Invitation Letter – here is the funny one. I invited myself. As I still have a Chinese company, I wrote to invite myself and signed it from myself. Hope they don't question this – but it is legit – I am the legal rep of my Chinese company, and I need to come back.
If you don't have your own company – you need a Chinese company to invite you. And the embassy has asked for their Chinese ID card and the business registration certificate as well.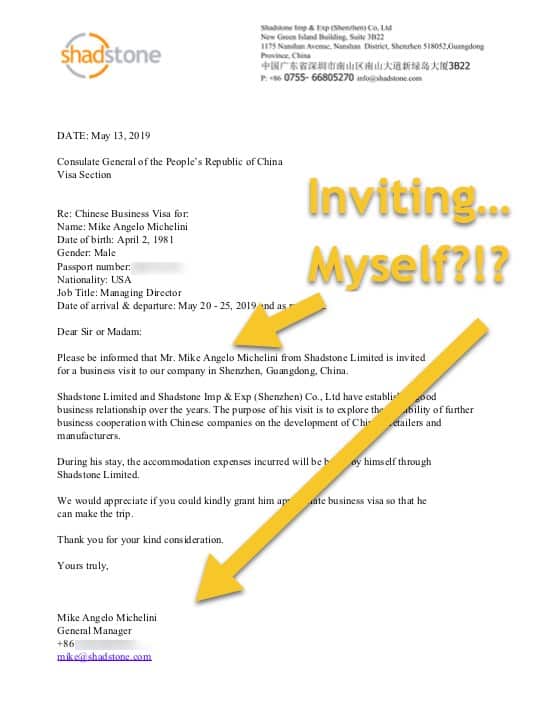 It has been a strange feeling to have to prove why you should enter a country. It makes you realize how the world still has such a long way to go for equality. Where I am born should not really matter so much.
Update- Inviting Myself Has Seemed to Work
It will take about 4 days and I can pick up a 10 year China business visa. Nice!