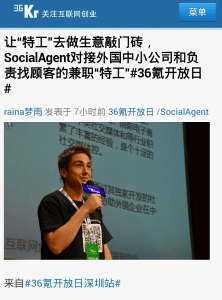 Big day yesterday. We pitched at 36kr oday one of the biggest events of the year in china over 800 attendees. Our focus and goal was to get more sales AGENTS (lets not call it jobs or assistants anymore) and we have been overwhelmed with applications on qq and weixin and some on website signip. Amy Gu did an amazing job
You can read the full article http://www.36kr.com/p/203562.html– but putting the "slightly enhanced Google translate version below" for those fellow English native readers reading this today:
So that Sales "agents" to do business as a stepping stone, SocialAgent is connecting foreign small and medium companies and is responsible for the client to find part-time "agents"

# 36 Krypton Open Day #

Raina, Meng Yu

Posted May 25, 2013

At 36 Krypton Open Day, Shenzhen, China / SocialAgent

From # 36 Krypton # Shenzhen station open day

Dealing with Taobao, Renting intermediary …… the demand side and suppliers connect many platforms. In the Chinese market, foreign companies seeking these things, by the American Michael (Mai Li Ni) founded Social Agent social agents being helped by the platform in the form of foreign demand side to find the Chinese customers. Supply these customers in China, will be concealed in various fields have been part-time "agents." In plain English, Social Agent can be regarded as a foreign small and medium companies service, specializing in the field looking for new customers by part time Chinese sales agents.

In Social Agent, the foreign company may be their target customers in China through various indicators described (such as food companies looking for distribution channels, customers, intermediaries seeking Chinese students studying abroad in the United States, real estate agents, real estate company is looking for a wealthy country home people), through the toll service (SaaS monthly fee model) to hire a part-time sales to meet the requirements "agents" to let them seek customers for their contact information. For part-time "agents" who, Social Agent is a hard work and sales platform, they can apply interested in part-time work for a number of foreign companies, through the phone (web app) and Web sites write down customer information to meet the requirements by Social Agent make summary information issued to the company. The agents will have to find a willingness to buy based on the number of customers get reward, while SocialAgent will bear on the reward "Alipay" role, unsatisfactory results will support a refund. Responsible for part-time "agents" of the market Amy said they would have some part-time staff training. In her view, the majority of part-time "agents" or mainly through the microblogging and other social networks potential, customers willing to buy the search, but there are other ways to find customers.

Michael on Social Agent vision is to become the sales sector Alibaba. In the future they plan on "agents" There is more in line with sales performance, such as multi-dimensional business evaluation score. Michael says, is now in Social Agent on the part of the "agents" The average age is probably about 25 years old, the majority of graduates, there are some industry experience, some want to gain experience in school.

In Social Agent form before the team although aware of foreign companies to enter the Chinese market, the big demand, but in the process to meet the needs of experienced two Pivot (transformation). The first version of the "Weibo Agent" to do is to help users improve social account operators, telling them how to write, how to get fans. However, in discussions with clients after they found no users would be willing to spend money to use. "Relationship is the first productive force" – foreign companies want is really the customer rather than the fans, but most of the small company has no spare capacity to do it. Based on this discovery, Michael will be transformed into products help companies get the user's social network data mining, and this road will eventually because the API permissions and other issues to give up. Michael says they believe "man" power, when Social Agent no longer confined to social marketing (the company even without China's social accounts), but through the docking part-time help for individual customers, those wishing to enter the Chinese market, foreign companies really willing to pay for it. Now being used Social Agent service has more than 10.

Team, said twice after the transition Social Agent still relatively new, there are many products that need improvement. Michael considered, Social Agent one of the biggest challenges is to find those that meet the requirements of part-time "agents." In seeking to accumulate customer experience can be replicated, true to form, after community, Social Agent becomes difficult to be copied.
Pretty awesome article, and pretty amazing Saturday afternoon. We were overwhelmed with applications both for part time "Sales Agents" as well as new clients (both Chinese companies as well as our targetted "western" companies")
As in any startup, it has been a rollercoaster ride, but this weekend definitely was one of the high points.
We are so thankful to 36kr for this chance to be one of the 6 startups selected out of the hundreds who applied. Thanks again, and we are happy to give "power to Chinese people" to allow Social Agent a chance to succeed – connecting amazing Chinese sales agents to companies who want a better chance at doing business in the Chinese market.
Jiayou!