Really appreciate that I have been blessed with awesome media coverage lately. I connected with Lawrence, Luo Songsong, the reporter from Shenzhen Daily newspaper who made the awesome write up – and he was intrigued with my story and my lifestyle! We had a couple great meetups while he put together this story that, when reading it from the newsstand downstairs from the Unchained Apps office, made my heart skip a beat. Very well written.
Here is the article in e-paper format:
http://szdaily.sznews.com/html/2015-04/24/content_3205923.htm (no longer working, but have article below)
My friends starting sharing it online and then I realized it was already published! I went down to the news stand, and the merchant saw I was buying it and I held up the paper next to my face and she was pretty excited (well, not really, but it made her smile). Picked up a few copies.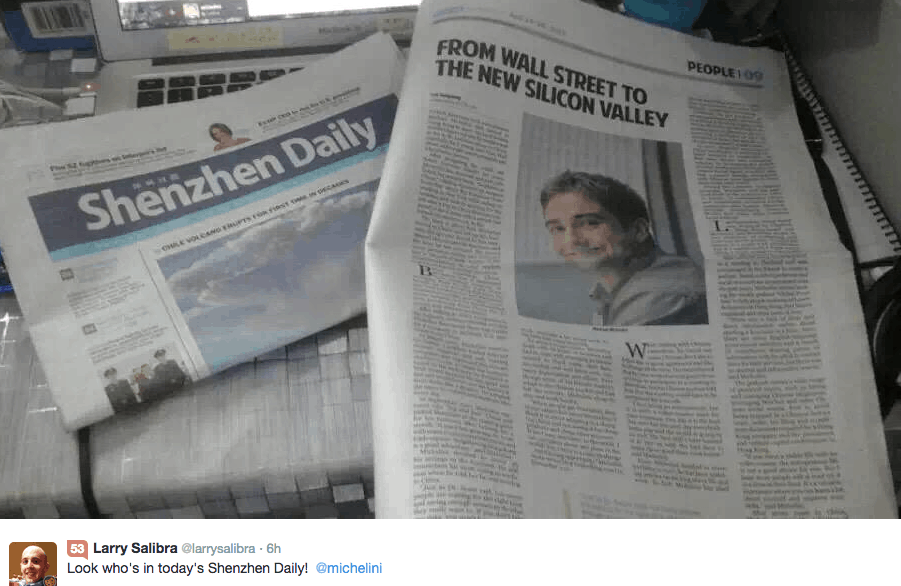 My son Miles really likes the paper, to eat, but he also smiled at me. And then we read another Dr Suess book and put him to bed.
Let's keep up the roll!
Update Oct 2018
Because the link is broken – seems SZ daily took a lot of their archives offline or some mixup? So I am posting the text here
Fri, Apr-24-2015 ZoomIn ZoomOut Default
From Wall Street to the New Silicon Valley
Michael Michelini
Luo Songsong
songsongluo @ 126.com
WHEN American tech entrepreneur Michael Michelini first landed in Hong Kong in 2007, his local friends couldn't figure out why he would travel so far to do business alone in China, especially for a young man from Wall Street with bright career prospects and a handsome income.
After navigating the totally different business climate for years, Michelini has survived and just published his second book, "Destination China," which is currently an Amazon bestseller, about his transition from working in New York while selling on websites part-time to quitting his day job after a trip to China that was supposed to have been only a month but turned into seven years, so far.
The book is about how Michelini moved to China and set up his business, the ups and downs he has experienced, the mistakes he has made and the wins he has enjoyed. He shares many personal stories and included tips at the end of each chapter of his recommendations on what readers could do to handle similar situations.
Before exploring China, Michelini was a distressed stock trading assistant at Deutsche Bank for five years. Even though he was working full-time, he also sold kitchenware and bartender accessories on eBay and other e-commerce websites, but he was frustrated with purchasing from China due to quality and delivery problems.
After talking to many companies in the industry, entrepreneurial-minded Michelini discovered there was a need for a company to facilitate U.S. purchases from China.
In March 2007, Michelini went to Go Daddy, a publicly traded Internet domain registrar and web hosting company, and registered the domain shadstone.com to begin his business based on the nickname he despised at Wall Street because he was quiet and fast and would hover over the traders at their desks like a shadow. He adopted the name to remind and motivate him every day.
In September 2007, Michelini ventured into "big and bad" China and picked Shenzhen as the starting point for his business after touring for a month. "It was a fast-growing city to me with many e-commerce companies and trade experts. Neighboring Hong Kong is a great advantage," said Michelini.
Michelini decided to invest all his savings in the business. He still remembers his mom crying in confusion when he told her he was moving to China.
"Just as Dr. Seuss said, too many people are waiting for the right time and saving enough money to do what they really want to. If you don't take any risks, you won't have any opportunities," said Michelini, who reads a book, normally a Dr. Seuss book, to his baby boy every morning.
To attract more clients, Michelini dealt with all kinds of factories and had to cope with emerging problems related to fixed costs, cash flow, increasing rent and labor cost, currency depreciation and others. Even though some of his friends couldn't adapt to the Chinese market and had left the country, Michelini chose to stay and work harder.
"When people get frustrated, they blame others but never themselves. I think it is about adapting to a changing China and not seeing it for cheap products and cheap labor anymore … It isn't easy anywhere in the world. I can complain about any place in the world! Yes, China is a crazy challenge … but it is a big opportunity," Michelini wrote on his blog (mikesblog.com) in November 2011.
While dealing with Chinese executives, he found out some Chinese don't like to follow the original agreement and like to change all the time. He remembered that he once invited several guests from overseas to participate in a meeting in Shenzhen, but his Chinese partner told him that the meeting would have to be postponed for a month.
"I love being an entrepreneur, but it is such a roller-coaster road for your emotions. One day it is the best day ever but the next day everybody hates you and the world is going to an end. The best skill I have learned is to put up with the bad days to make those good days even better," said Michelini.
Since Michelini decided to move to China in 2007, he has been updating articles on his blog about life and work. In fact, Michelini has tried almost everything related to trade, from procurement and online marketing to consulting and training.
Gradually, he put his focus on event organization and social media. In addition to holding regular trade events, Michelini piloted the first co-working space in Shenzhen in 2011, becoming a facilitator of Start-up Weekend in town. He spends a lot of time immersed in social media.
In 2012, Michelini encountered China Accelerator, a start-up incubator initiated by expatriates. At that time, Weibo was extremely popular. By leveraging the power of social media and e-commerce, he created Social Agent, a mobile app that connects foreign companies with Chinese sales agents to help them build sales leads.
During the 3-month incubation program, Michelini and his partners lived in the accelerator office in Dalian, in northeastern China, and immediately attracted foreign customers after launch. However, WeChat immediately overtook Weibo and made their business more difficult.
Last November, Social Agent was acquired by Gigabud, a Hong Kong-based app developer and Michelini works as vice president of marketing and business development. "I think the lesson is: I made a lot of mistakes, but if I waited until I knew everything, I never would've even gotten started," Michelini said.
Since October 2013, he participated in a meeting in Thailand and was encouraged by his friends to create a podcast. Based on his experiences and social connections accumulated over the past years, Michelini started hosting the weekly podcast "Global From Asia" to help people understand how to do business in Hong Kong, the Chinese mainland and other parts of Asia.
"There was a lack of clear and direct information online about starting a business in China. Sure, there are some English-language government websites and a bunch of consultants sharing pieces of information with the pitch to contact them for their services, but there was no neutral and informative source," said Michelini.
The podcast covers a wide range of practical topics, such as hiring and managing Chinese employees, leveraging WeChat and other Chinese social media, how to avoid being trapped in a Chinese factory scam, order, tax filing and compliance documents required for a Hong Kong company and the investment and venture capital environment in Hong Kong.
"If you want a stable life with no roller-coaster, the entrepreneur life is not a good choice for you. But I hope more people will at least try it one time in their lives. It's a valuable experience where you can learn a lot about yourself and improve your skills," said Michelini.
After seven years in China, Michelini realizes the definition of success is to stay happy and content with what you have at the moment. This year, Michelini hopes to operate the podcast better, write another book on China, spend more time with his family and improve his Chinese language skills.
"Just as Dr. Seuss said, too many people are waiting for the right time and saving enough money to do what they really want to. If you don't take any risks, you won't have any opportunities."
Michael Michelini