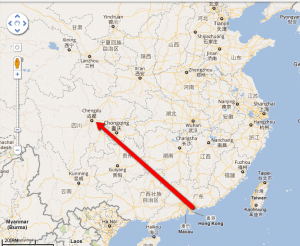 Just when I thought I would lower my travel and stay in one place, I book my USA ticket, and take this last minute trip to ChengDu city in China. I am taking this trip because of business! For the further developments and networking and research for Chinese ecommerce and "CBT" (cross border trade). I still believe ecommerce is the best way to describe all the "business" I am doing. As ecommerce is a balance of factory sourcing, technology, sales, and marketing all based around the internet.
I got invited to attend this "invite-only" 50 seat meetup from my attendance at the last club ecomerce meetup in May.
This event will be in the city of Chengdu, at the Milanoo ecommerce company location. The idea of this Chinese ecommerce group, hiwto.cn is to visit different cities and see the business and ecommerce environment.
And of course like any event around the world, but especially in China, building relationships, trust, and "facetime" with industry colleagues is extremely valuable.
The main event will be tomorrow (Saturday) afternoon, but we will have a lot of team building events, and the flight is planned for Sunday afternoon. The group has synchronized the flights, so I am flying there and back with a group of Shenzhen ecommerce enthusiasts.
Will post more after the event, this is a rather short post from the airport, to announce my trip there and that I will still be traveling a decent amount of time. Connecting….