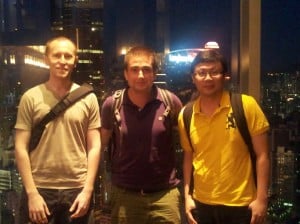 Life, as always, is moving so quickly. Building up an IT team and plan for Weibo agent at the China accelerator that starts this Wednesday in Dalian, China. Some of the team is not yet ready to come to Dalian for the first stage, so we all got together this weekend in Hong Kong. Jimmy flew in from Singapore to meet us on Saturday. Doug is living in HK and has been working with me on various web and SEO projects over the past 6 months. I've worked with Jimmy on prototyping loadpipe and he's an excellent backend developer and API guru. I had not yet met Jimmy face to face, and as we will be working diligently on weibo agent, I felt its about time to get some face time together before heading to Dalian.
Wishing I was more technical, but I do have an overall understanding of the framework and lingo in tech – Doug, Jimmy, and I spent Saturday afternoon getting to know each other more, what role each person would assume, the vision of weibo agent, the technical requirements and scalability.
My passion sometimes makes me get ahead of myself, going into long term future goals of the system – but I do try to circle back to the core of the system and the roadmap for the next few months. Sometimes I wonder and feel that my passion may throw some people off, especially developers.
But I did feel good to finally meet Jimmy, and also Doug and Jimmy seemed to communicate well to each other – hoping that while Doug and I are in Dalian starting on Monday, this meeting in Hong Kong will help speed up communication and understanding. Ideally it would be best if Jimmy was able to join in Dalian, but we will make things work as best we can and motivate him remotely to look towards working together in the same office in the near future.
Maybe I should watch "swordfish" movie again, wow, how John Travolta motivated programmers!
Typing this blog sunday afternoon while on the bus from Kowloon tong to Shenzhen bay border…reflecting.
Learning more and more that its my job to be the "team builder", the coach, the motivator. That the right team is critical in success of a startup. Putting all the pieces together, keeping people interested and incentivized. Also learning I have to sell the idea to not just customers and investors – but also to partners and staff. That they must also buy into the idea.