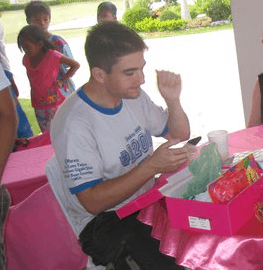 While it is scary to see people ALWAYS on their mobile phone…I find it hard to believe it is making us "anti-social"…..Marshall sent me over an article I thought would be worth blogging about…..Social networking under fresh attack as tide of cyber-scepticism sweeps US below is a basic idea of what its about:
Turkle's thesis is simple: technology is threatening to dominate our lives and make us less human. Under the illusion of allowing us to communicate better, it is actually isolating us from real human interactions in a cyber-reality that is a poor imitation of the real world.
Maybe this EXPERT is right………..but……for me, it has EXPONENTIALLY added value to my "real life"……….I live on the other side of the world from my home country……being in Asia can be tough…and lonely……and I was here before "social media" was so widespread…..and it was harder to live then it is now. With social media, my "virtual friends" travel with me, and I travel with them…..sharing stories, ideas….I can quickly know where my friends are…..and it brings us closer together when we physically can't be.
Sure maybe I have also adapted to living overseas…..but I am in touch more with my friends all over the world. I have made business contacts, I have focused my network….been referred to people and referred others to others….all from social media.
In this blog I uploaded a pic that I had on facebook….of me with my facedown looking at my mobile…..here are some comments I got:
Added December 21, 2010 ·

Ellen Luong always on that cell phone…hahaha.

Michael Michelini Yea, im addicted, seems more and more pics may look like that

Theresa Depuy lol Thats what I was going to say your always on the phone…gotta stay connected 🙂

Michael Michelini if there is a PA (phone aholics anonymous) i'll be a memeber…..sure that group may come soon enough
But you know what I was doing at that exact moment? I was setting up a VPN proxy for my mobile to be able to access facebook in China! I was talking to @_williamli in hong kong and testing his new VPN. I was connecting to technical people, that I choose to interact with, that I am learning with, sharing ideas with. Building on relationships……maybe I'm crazy, but maybe this interaction at that moment brought us together, made him remember me more and maybe refer me to another RELEVANT (sorry to be cocky, but yes, I want to know more internet and technical people) who can help me down the road. Or maybe the other way around, I can connect him to some people (which I have already, actually!) and build up value in the relationship.
So is this……..ANTI SOCIAL? Its focusing my network and even when I may be away from them physically, I can connect with them remotely via social media.
Sure, I know I have annoyed some people around me (in real life) as I'm always on my mobile phone…..but hate to be rude, but in a way, I can stay closer to the people and news that is important to my life……
Its my virtual friends…..and they are with me on my mobile phone wherever I go….and I meet so many more people because of this. I am more confident to approach people in real life too…..as I understand the "process" of networking…..the internet has given me practice.