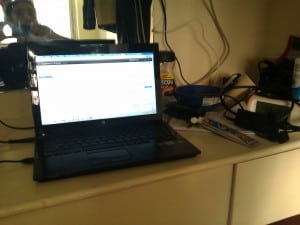 Jeez, if you told me a few months ago I'd be living in Hong Kong, I say you're crazy. But keeping an open mind, networking, STAYING POSITIVE, we all find our path in life. Just rented an apartment the other night here in Hong Kong, in Tin Hau district (next to Causeway bay, on Hong Kong Island). Small apartment (basically a bed, small desk, and toilet, took a photo from my desk here) but its all about location, at least for me in my life — To be where the action is…..
It is currently Chinese New Year in mainland China…..while Hong Kong is still open for business a day or two more (Hong Kong people only have a few days off, a long weekend starting this Thursday). I have been spending a lot of time bouncing between Hong Kong and Shenzhen the past weekend….trying to determine where to spend my time. Again, part of the reason I'm struggling since 2010 is trying to
determine my base…..bouncing between China, Hong Kong, Philippines, little Thailand and a long trip to USA.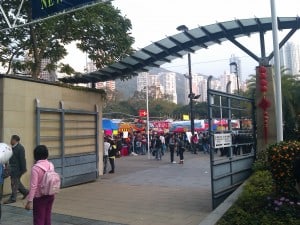 I've always thought Hong Kong is the ideal central location…but it doesn't come cheap…..rent and cost of living here is the same, if not more, then New York City prices….and thats a bit difficult for a bootstrapping entrepreneur like me. But I also think it will be worthwhile to spend weekends here after weekdays in Dongguan, China and then occassional trips to Philippines….this will be my 2011 travel plan.
Hong Kong is an amazing city….mostly for financial company's Asia headquarters, the whole place is filled with buzz of people running to their next stop. Fast paced…high volume of people. I have always come to hong Kong for a day or 2, banking, company filing, accounting (myself, like many, have a business in Hong Kong, as its fairly simple to keep open and low tax rates)….but never
thought I would live here, at least not so quickly. Its all about biting off more then you can chew, and making it work. Thats my life philosophy at least, anyway!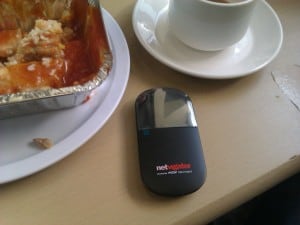 Also a great thing about Hong Kong is the internet speed……so fast, fastest by far in all of the places I do business in Asia. And Facebook and other foreign websites can be viewed here, as the Chinese gover
nment doesn't make Hong Kong go by the same rules and regulations as mainland China. I also have this cool portable 3G hotspot, so can blog, tweet, and do business in any location in Hong Kong….no more fighting for wifi logins! And while there is a ton of financial and corporate companies in Hong Kong, there is a decent amount of startups and entrepreneurs to meet, like the cool people at boot hk startup incubator and I hope to build up my network and relationships in Hong Kong.
Lets see where this takes me next.