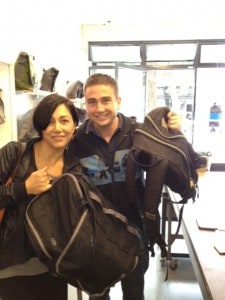 Jamming in as many meetings as I can during this short stopover in San Francisco, I was able to meet Kat from Modern Twist who came across my blog last week about how to import into China she emailed me while I was in Los Angeles. Going back and forth in emails, I realized I would be in San Francisco this week and we could meetup! Talk about random, but those random acts are what make life awesome and special.
So we met up this morning to talk about her business, and the issues she is having importing some raw materials into China from Taiwan. She picked an awesome cafe "La Boulange de Hayes" (500 Hayes St (btw Laguna & Octavia)) which has some awesome breakfast food and pickles (haven't had pickles in years, sweet!)
We spent over 2 hours together, she almost ran out her parking meter. Talking about China business travels, factories, sourcing experiences. I have connected her to a few of my logistics contacts in Shenzhen, China already – she's also interested in trademark lawyers and sourcing agents, so we'll follow up more later.
After breakfast, we got to have some shopping fun together! Yes, I know I need a new bag, and Kat made it clear. She said if you wanna be a tech dude in Silicon Valley, you need a bag from timbuk2 which is locally crafted bags for tech dudes. She was leaning towards a messenger bag for me, but I am still a backpack dude. Thinking of those times I'll be riding my bike when I'm back in China, I prefer to have my gear strapped to my back rather than hanging to my side.
We tried out a few bags and I picked one (photographed below) and bought it! I wanted to keep my old North face bag…but she as well as the cashiers in the timbuk2 shop told me I can't be a pack rat and just gotta let go. Walking to the street corner trash bin, I place it on top, and walking back in 15 minutes it was already gone (as they suggested, it would be put to good use quickly there). I do need to let go of old things and focus on newer / better things…in business and in life.
We walked around the neighborhood and Kat visited a shop where her Modern Twist products were being sold. She loved the excuse to be able to hang out on a Tuesday morning and also say she is doing business development meeting her local distributors.
Tried locally made cupcakes, there was also a locally made ice cream stand, coffee shop. Art in the city park. Totally wild, totally creative. San Fran does rock!
Kat will be in China in July, definitely planning to meet up again, maybe will be another awesome blog post!