(my mom still isn't up to emailing – and posted me this clipping from the local Florida newspaper….haha, good timing!)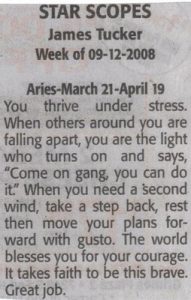 Keep pushing forward, but I keep telling myself – no more mister nice guy – should I change and not care as much about how others feel?
I feel I've gotten more agressive, as I get deeper and deeper into the wild world of international business I've gotten burned and I have yet to feel I've burned someone else. i'm getting so overwhlemed I have to turn projects down, I hate doing that. I like to do everything – since as young as I can remember I'd get involved in every club, every class, every opportunity to learn and expand….but as the world around me gets bigger and bigger….i'm drowning in my curiousity.
Turned down a lot of parties, meetings, and business opportunities….and now as pressure creeps up for some deadlines, I have to work harder then ever.
Spyble & SEO clients
Electrapour & the patent drama
Trading business – holding it together.
UK online retail business newyorkbarstore.co.uk These 4 are all coming down and crushing me at the same time…..I love it, I cannot buckle under the pressure….keep pushing forward