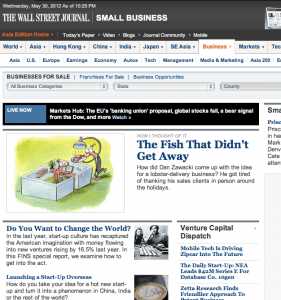 Little bit of self promotion, but I'm really excited to have gotten confirmation by Saabira Chaudhuri, a reporter from the WALL STREET JOURNAL, that she included me in her latest article "Launching a Start-Up Overseas".
I'm a little shy / embarrassed to do "self-promotion" of myself and this article….yes, I know I am blogging my whole life every day…but still, just feel strange reading about myself, and then "pushing" that content on my social media. But overall my friends WANT to see this, and I feel them cheering me on! I just have to not be so concerned about feeling "self-centered" and "self-promoting".
Here's the exciting email I got from the WSJ reporter this evening sitting at home in Shenzhen, China:
Hey Mike,

The article I interviewed you for is on WSJ.com's small business homepage today. It's called launching a startup overseas:

http://online.wsj.com/public/page/news-small-business-marketing.html

Thanks for your help – and hope you like the piece…

Saabira

Saabira Chaudhuri
Reporter
The Wall Street Journal Digital Network
1211 Avenue of the Americas
7th floor
New York, NY
The link she gave is the homepage of the Wall Street Journal small business section, and the direct link to this "starting up overseas" article is here.
So cool to have spent about 1 hour on the phone w/ her a few weeks ago answering her questions on how I came to China, opened a company, got a work permit, dealt with local laws, USA laws. As I went over it on the phone that night, I realized how dang complicated it is! How many mistakes I made, how much delays. How there wasn't really anyone that could give me straight advice. I remember searching google back in 2007 (yes, like the article says, in my parent's back porch in Florida) after an awesome 1 month business trip to Hong Kong, Shenzhen, Shanghai, and Beijing (Sept/Oct/Nov 2007) on how to open a company in China. I remember talking to lawyers and accountants asking for $100,000usd retainers and like $1,000,000usd registered capital to open a Chinese company. I was in shock. I couldn't believe it.
It was just another reason I had to fly out to China and figure it out myself. Maybe I was totally crazy, but I couldn't believe there wasn't anyone on the internet knew how to do it! Or didn't want to share. And coming to Shenzhen, China – expats and Chinese didn't really give me a consistent answer. Some were too complex, unbelievable, gray, or straight-out illegal!
I got some semi-ok answers and guidance and referrals. I remember Mike Bellamy from Passage Maker hooked me up with a nice lawyer, Li Yan – that did end up getting me on the right track. But man, I still spent so much time and money. Maybe its necessary.
And then many people tell me I shouldn't give this information out for free. I have written a really long blog post about How to open a Chinese WFOE company and some say I'm crazy. But then again, being social, and being open, I believe is the way to go.
A great article on that very point by Forbes If you don't have a Social CEO, you're going to be less competitive
So, social + open is how I will continue to be. Lets continue to rock!