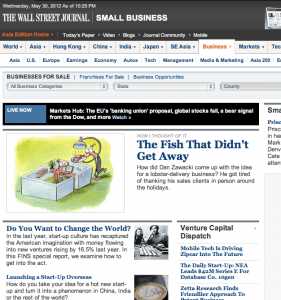 Little bit of self promotion, but I'm really excited to have gotten confirmation by Saabira Chaudhuri, a reporter from the WALL STREET JOURNAL, that she included me in her latest article "Launching a Start-Up Overseas".
I'm a little shy / embarrassed to do "self-promotion" of myself and this article….yes, I know I am blogging my whole life every day…but still, just feel strange reading about myself, and then "pushing" that content on my social media. But overall my friends WANT to see this, and I feel them cheering me on! I just have to not be so concerned about feeling "self-centered" and "self-promoting".
Here's the exciting email I got from the WSJ reporter this evening sitting at home in Shenzhen, China:
Hey Mike,

The article I interviewed you for is on WSJ.com's small business homepage today. It's called launching a startup overseas:

http://online.wsj.com/public/page/news-small-business-marketing.html (update – link no longer works)

Thanks for your help – and hope you like the piece…

Saabira

Saabira Chaudhuri
Reporter
The Wall Street Journal Digital Network
1211 Avenue of the Americas
7th floor
New York, NY
The link she gave is the homepage of the Wall Street Journal small business section, and the direct link to this it-jobs.fins.com/Articles/SBB0001424052702303360504577412631386061796/Launching-a-Start-Up-Overseas starting up overseas article *** the article is no longer online, so i pasted it here and here's a screenshot **
Launching a Start-Up Overseas

By Saabira Chaudhuri

When Michael Michelini started Parallel Phenomena, a barware company, out of his New York apartment in 2004, his business model was simple: buy in bulk from China and sell to suppliers in the U.S.

Michelini, then 23 and working at Deutsche Bank, quickly ran into difficulty sourcing his products. "It was hard to find a reliable source," he recalls. "There were all sorts of quality and supply chain issues." Eventually, frustrated by his suppliers' lack of consistency, he quit Deutsche in 2007, moved to Shenzhen and set up a company to supply barware to his own and other U.S. companies.

With growth in developed markets stagnating, entrepreneurs who might otherwise stay close to home are instead looking to start businesses in places such as China, India or Brazil where markets are growing and consumer desires remain unfulfilled.

"When you're at the frontier of something new, that's taking off, you can develop your business much faster," says William Kerr, an associate professor at Harvard Business School who teaches a course on launching global ventures. "It's much easier to grow a firm if you don't have to steal market share from competitors, if all of your potential customers don't have contracts that have locked them into long term relationships, or if the talent in the area hasn't been at a company for 15 years."

Nonetheless, setting up shop outside your native country isn't for the naive. Entrepreneurs are up against a range of obstacles: cultural differences, a paucity of local information, a new language and regulatory and legal hurdles, to name a few.

Porch in Florida

Michelini recalls how confusing the process of researching how to open a company in China while sitting on his parent's porch in Florida seemed. "There was nothing online that I could find in 2007 about opening a company in China. All these law firms and accountants I was talking to wanted a ton of money," he says.

One big question was where to incorporate. Tax codes and ease of doing business are major considerations, but so are thinking about where your customers will pay you, where you will hire the bulk of your employees, whether you will be physically selling goods in a particular country, and where you want to be based, says Michelini. The last point is significant because you may need to hire yourself as an employee in order to secure a visa allowing you to live in a foreign country.

Depending on the complexity of your situation, it may be worth hiring a local employment lawyer, says Michelini. After moving to China, he hired a lawyer who advised him to set up a Hong Kong company that acted as the parent company of his Chinese start-up, a step he says proved useful along the way.

"I learned I don't want to keep much money in China for a lot of reasons, one being that it's easy to get money in but hard to get it out. It's easier to do business in Hong Kong," he says.

First-time entrepreneurs often find that international accountants and lawyers can charge hefty fees. Instead, consider hiring a local accountant or lawyer, says Daniel Isenberg, a professor of Management Practice at Babson Global and the founder of the Babson Entrepreneurship Ecosystem Project, which works to facilitate entrepreneurship around the world.

He advises talking to other U.S. entrepreneurs who have moved overseas about the regulatory steps they had to take to get set up. While most countries have offices that advertise services for foreign companies attempting to break into local markets, Isenberg says potential entrepreneurs should look to "professional local gossip" to determine the credibility of these.

No 'Guanxi'

"Usually a foreigner in China has no guanxi," says Michelini, explaining that 'guanxi' means being part of the local circle of trust in China. "Chinese and Indians engage in bargaining and talking and discussing everything forever. Guanxi or relationships reduce the amount of time spent bargaining."

He attempted to build such trust by living in areas populated largely by locals and joining local trade organizations to meet people in his industry.

The initial stages of cultural adaptation can be hard: "It was like pledging my fraternity or putting up with Wall Street hazing," says Michelini recalling his first few months in China. "You have to show them you can put up with it. Show you're not here just to make money."

He also advises being sensitive to local culture. "Americans are known to be aggressive, impatient, emotional people," says Michelini. In China, he advises that one tread lightly. "It's a very unique market here," he says. "China's not going to change for some foreign company."

Learn the local language, advises Mario Garcia, a U.S. entrepreneur who moved to Seoul about two years ago to found ArcticPod, a company that makes an air-conditioned energy-efficient canopy to hang over one's bed.

"So much gets lost if you don't speak the language," he says. "A lot of people have the attitude that 'They should speak in English if they want my money or business,' but the truth is that if you make an effort to learn the local language and customs, most of the friction that you faced beforehand in starting your business starts to melt away."

Go Abroad

Garcia also advises going abroad before you start your company. "If you want to start a company outside of the country, then get out of the country," he says. "It is almost impossible to penetrate a foreign market without cooperating with people who are local. So hop on a plane, and go meet people in the place where you hope to do business."

However if you aren't selling physical products, visiting beforehand or indeed even moving at all may be unnecessary, says Semyon Dukach, who runs a cloud-based email service based in Cambridge, Mass., called SMTP that has a substantial presence in the Ukraine.

Instead, he says get started by setting up a website, translating it into various languages and using Google AdWords to sustain it. "You can start online, that's what makes it easy and cheap. See if there is traction, advertise a little, see if people sign up," he says. "Divorce yourself from notion that just because you live in America you should launch a service in America. The world is out there for you."

He suggests taking a service that works in one country, and attempting to monetize this in another country that has an unfulfilled need. "Instead of beating the competition, go somewhere else that your competition isn't," he says.

If you do decide to move, partnering with a local can ease one's transition into a new country. "If you show up in a country and intend to create something from scratch, as an entrepreneur that takes a lot more time and money," says Iker Marcaide, founder of peerTransfer, a money transfer service for international students, which has offices in Boston and Valencia, Spain. "The easiest way is to find someone local who you can add a different skill set to."

Pick the Right Local

Picking the right local, can sometimes be challenging, depending on the country. In Japan, for instance, there is an "interesting trade-off," says Isenberg. "The person you choose may be very comfortable for you to work with but the locals may not feel comfortable with them."

Isenberg also advises considering how easy it will be to conduct your particular type of business in the market you are looking to enter. For instance, "Brazil is dynamic, it has a growing middle class," he says. "But hiring and firing people is really problematic. You have to look at the labor environment and the tax environment. It isn't just how you get in, but how do you get out."

Jorge Rodriguez, founder of an engineering firm called PACIV that helps manufacturing plants operate more efficiently and has offices in the U.S., Europe and Puerto Rico, advises looking for a turnkey service to register your business, find reliable lawyers, route phone calls and collect mail, and handle employee payroll or accounting issues when setting up a new company or even just a new office in a foreign country. He pays a few thousand dollars a month for such services and says they are worth every penny.

"They act as my local liaison," he says of his turnkey service.

Despite the challenges, Michelini says that U.S. entrepreneurs who think there might be a business opportunity overseas should just take the plunge.

"Lots of people are always waiting for the right chance to make their own business," he says. "You will never have the perfect timing, you have to make it happen."

Write to Saabira Chaudhuri at saabira.chaudhuri@dowjones.com
So cool to have spent about 1 hour on the phone w/ her a few weeks ago answering her questions on how I came to China, opened a company, got a work permit, dealt with local laws, USA laws. As I went over it on the phone that night, I realized how dang complicated it is! How many mistakes I made, how much delays. How there wasn't really anyone that could give me straight advice. I remember searching google back in 2007 (yes, like the article says, in my parent's back porch in Florida) after an awesome 1 month business trip to Hong Kong, Shenzhen, Shanghai, and Beijing (Sept/Oct/Nov 2007) on how to open a company in China. I remember talking to lawyers and accountants asking for $100,000usd retainers and like $1,000,000usd registered capital to open a Chinese company. I was in shock. I couldn't believe it.
It was just another reason I had to fly out to China and figure it out myself. Maybe I was totally crazy, but I couldn't believe there wasn't anyone on the internet knew how to do it! Or didn't want to share. And coming to Shenzhen, China – expats and Chinese didn't really give me a consistent answer. Some were too complex, unbelievable, gray, or straight-out illegal!
I got some semi-ok answers and guidance and referrals. I remember Mike Bellamy from Passage Maker hooked me up with a nice lawyer, Li Yan – that did end up getting me on the right track. But man, I still spent so much time and money. Maybe its necessary.
And then many people tell me I shouldn't give this information out for free. I have written a really long blog post about How to open a Chinese WFOE company and some say I'm crazy. But then again, being social, and being open, I believe is the way to go.
A great article on that very point by Forbes If you don't have a Social CEO, you're going to be less competitive
So, social + open is how I will continue to be. Lets continue to rock!