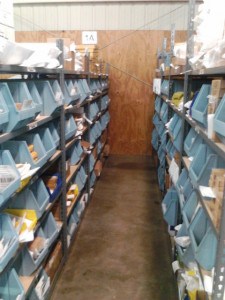 One of the main reasons I am in Los Angeles is to visit various logistics and ecommerce warehouses I have been working with while in China.
Logistics, sourcing, supply chain, warehousing, inventory control = OPERATIONS that I am weak in. I believe we all need to be open and honest as to what our strong points are and what our week points are…..and I am a marketing guy. I'm a blogger. I have always found partners who can help me with the operations.
The trick about ecommerce is…..operations. I have been changing operations so much the past year…support staff, warehouses, factories, shopping carts….basically, everything.
I believe I found the right place finally….they are a Chinese logistics company headquarters in Shenzhen, China and they are opening this new LA warehouse to allow their Chinese suppliers and sellers the ability to have inventory held directly in America.
Currently they only service Chinese suppliers (factories) and Chinese sellers (who have english websites selling to foreigners) …. and only have a Chinese website!
Its still a bit early for me to really be blogging about all of this…I am working on being their USA representative and combining my New York Bar Store inventory and operations into their operations flow. Its exciting stuff…and coming to LA and meeting them face to face has been amazing. Trying to communicate from China via email and chat has been exhausting, even just one day here has allowed me to do so much, so much faster.
I'm also still in good relations with Lisa who has worked with me the past year in Santa Ana – her mandarin is great and she has a good team to market and distribute products in USA.
Like I said, its all about the chinese brands entering America directly…I'm getting bombarded with Chinese factories that want me to help them do direct sales in USA and other foreign lands….and services like a USA warehouse here in Los Angeles is a key part of that.
Another example of "putting this all together" is geekcook coming to America – translating to english, brand building, marketing, sales, distribution, customer service…
A massive challenge, and one that takes all the experience and knowledge i've been building up in China the past 4 years.
Stay tuned, once this is Chinese / USA ecommerce platform developed more I'll be pushing it….just very early stage now.