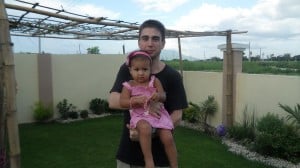 Since arriving to the Philippines Friday morning, its been an intense, high energy few days…..first of all, I didn't sleep the night before since I had an early morning flight I figured I would just work straight through and go directly to the airport…..definitely a rockstar style….and I caught some ZZZs in the airplane (but only a 2 hour flight!).
After arriving in Manila, Marie met me – I dropped the bulk of my luggage (which was really bar product samples, computer accessories, and other things that are double or triple the price in the Philippines compared to China!) But I quickly had to bus it to Angeles City (3 hours) because Bas was staying for the weekend before going back to China – so I could spend time with him, Tess, and my goddaughter Charlotte!!!
Heading on the bus in Manila, I bumped into an American air force guy who took the same bus as me, Laymond. He is currently stationed in Korea in the anti cyber crime taskforce – with a week or so in Philippines to have a holiday. We both arrived in the bus station…..he didn't know who to talk to, where to go – and Tess and Bas had tech difficulties with their phone! didn't answer text or phone calls (international roaming with my China mobile….scared to check my phone bill later…) But luckily I had been to the city last year, and managed to take a tricycle with my new Air force friend Laymond. Checking into the hotel, finally the texts made it through to Tess's mobile and they contacted me and met me at the hotel just in time for dinner.
This city is so intense..well actually all the cities I have been to in the Philippines are pretty high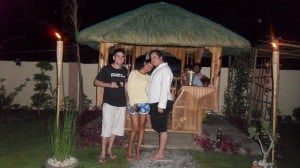 energy….but I just gotta go with the flow. I had trouble getting online, or battery issues, so it is hard to keep in touch with the inflow of emails, skype messages, and other issues. Checking my email this sunday afternoon, had 2 new fraud alerts on different credit cards….I swear, and am confirming with Bas and others, they are getting more and more strict with international credit cards these days….fraud must be picking up – I used to have no problem buying things online…now every time I am getting red flagged and have to call in to verify.
Spent the past couple days in "family mode" – being called "uncle Mike" is really cool…..and touching…..Charlotte has gotten so much bigger the first time i saw her in feb 2009 – for her baby christening she is walking now…..playing in a baby pool – seems to be a very smart baby!! I am proud to be her godfather….hope she continues to grow up in a safe and loving environment. Wish people could all be together…..China, Philippines, USA, Europe – baby Charlotte will definitely grow up with an international culture.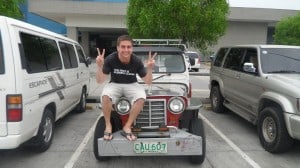 Later this Sunday afternoon I have to head out – back to Manila….back on a 2 – 3 hour bus…what is funny is there isn't a schedule, a website, nothing. So we have to take a ride out there and see…but I think it runs every 30 minutes (or when its full) to metro manila. Life is one wild ride, just hold on and enjoy as best you can! Just stay positive….and take life as it comes and make the best decisions with the information we have at the time we are in that moment of life….