On Thu, Aug 18, 2022 Mike will be a moderator and host of a HKTDC (Hong Kong Trade Development Council) event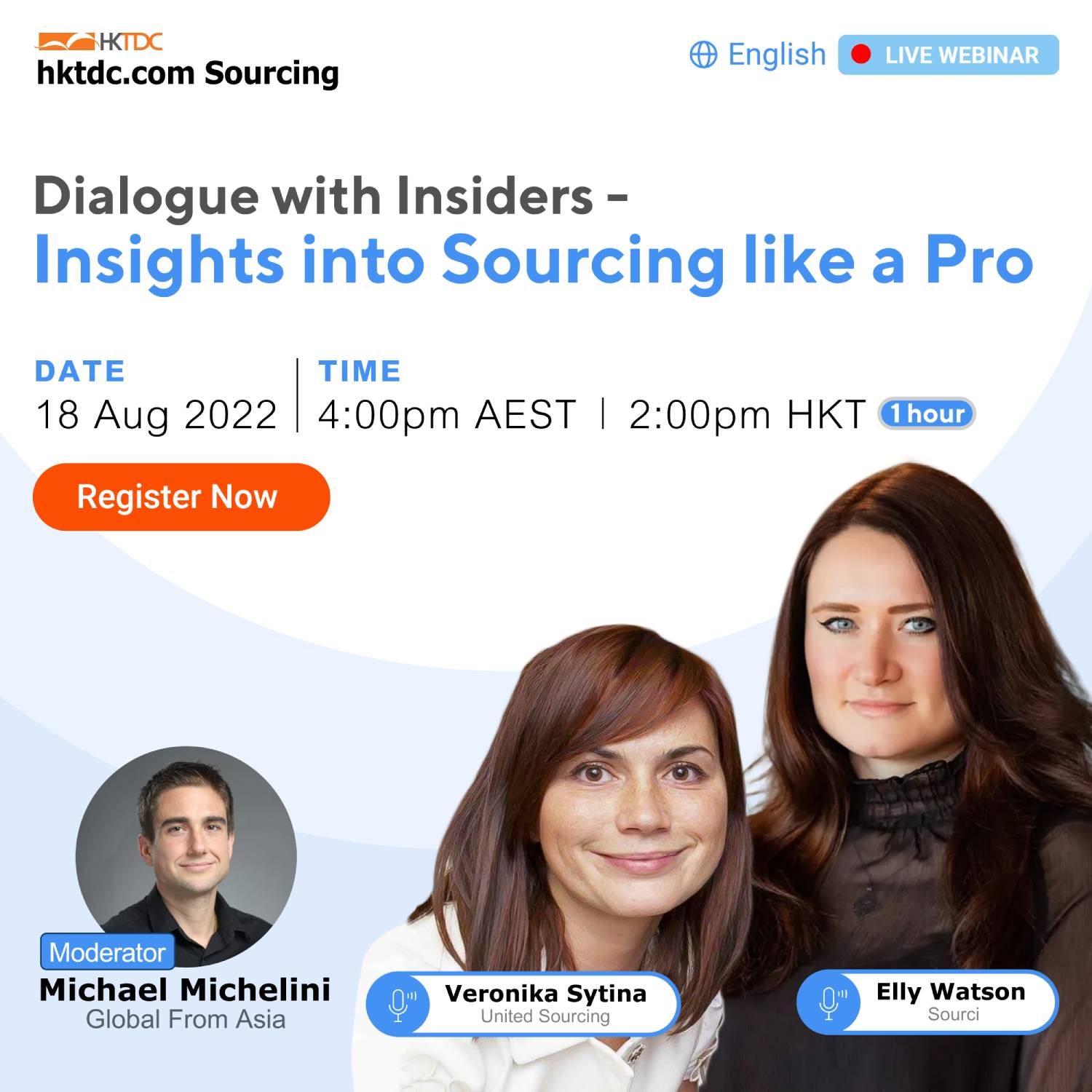 Thu, Aug 18, 2022 2:00 PM – 3:00 PM HKT
TWO Asia-Pacific sourcing professionals will open a dialogue to share their experience and insight about Sourcing in Asia. It will cover the following areas:
• Identify profitable products for one's market and trustworthy suppliers in Asia
• Sustainable sourcing best practice
• Negotiation hacks
• Competitive edges among Asian countries
No matter you are an innovative startup, SME, or large enterprise, you are welcome to join us and raise your questions with us. Let's explore together and get ready to capture the opportunity of recovery in Asia!
Speakers:
Veronika Sytina, Owner and Director, United Sourcing
Veronika has over 20+ years in the retail industry, specialising in merchandising, buying, product development, and sourcing. Prior to founding United Sourcing, she had worked as senior management roles for LENTA, METRO Cash and Carry, and 585 GOLD, with over 15 years of experience in direct buying from China.
Veronika founded United Sourcing in 2016, serving leading European and Australian retailers, customers today include COLES, HITACHI, Billa, LENTA, and Ozon.
Elly Watson, Head of Brand and Partnerships, Sourcing
Elly is dedicated to discovering the true goals of a business & cares deeply about our clients' needs. Whether she's working with a scale-up ecommerce brand or a FTSE 100 corporation, she understands how to increase revenue, cut costs, & help a business grow.
Ask Elly how outsourcing procurement may boost sales—she's an expert in product distribution, software development & sales team leadership.
Moderator:
Michael Michelini, Founder, Global From Asia
Michael is an American social media, e-commerce, and SEO Specialist that has lived in China since late 2007. He is a passionate business connector that helps companies do business in China as well as Chinese companies to work in overseas markets. He built the cross border e-commerce community GlobalFromAsia.com. GFA is a platform to help cross border business owners learn, network, make business partnerships, and grow global businesses.
Would be great to see some of you there – you can register, free, here:
https://register.gotowebinar.com/register/354000287732016142?source=GFA