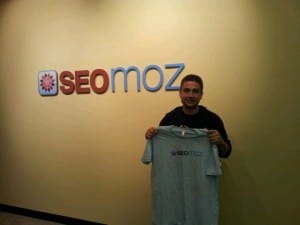 Monday here in Seattle, and I definitely am experiencing the Seattle I was expecting – rainy, lots of coffee, and tech companies! I had scheduled a tour of SEOmoz during my stay and have been excited to drop in after an awesome startup weekend.
I got to know SEOmoz well since they launched their site explorer and Gillian (@SEOmom) was keynote speaker at the Xiamen, China SMX (search marketing expo) in 2009. Really too bad I didn't get to meet her today as she's in Europe (she is always traveling internationally, that is how i know her, meeting her in China and the Philippines)
But it was an amazing tour of SEOmoz, thinking about her speeches at the conferences she has keynoted, and seeing what SEOmoz has become over the year – their office is 1 block away from the Tourist attraction Pike Place in downtown Seattle – probably one of the most pristine commercial office spaces in Seattle! And its a really sweet setup.
I got a sweet t-shirt and met a lot of people from the company I had been talking to in emails. Its always a great to put a face to an email.
I remember the words, build a community! Build a brand people connect to. I'm working towards that, bridging USA and china tech / e-commerce/ startup worlds.
Cool to see SEOmoz in person, the world is getting much smaller to me – building confidence and a strong global network.