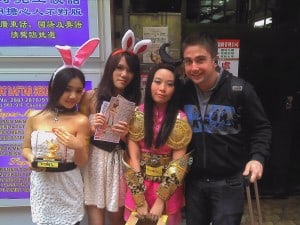 Writing this Saturday evening (Holy Saturday) in my small apartment in Hong Kong. Making it an early night, and a relaxing night…I'll be waking up around 7am tomorrow, Easter Sunday, and heading up to Shenzhen Bay border from Tin Hau CTS bus to meet up my friend Brent. I'll catch a ride with him to the Canton Fair in Guangzhou.
Interesting way for me to spend my Easter holiday!
For those curious, as far as how these countries celebrate Easter: In Hong Kong, they do have both Friday and Monday off, while in America, there isn't any official weekday off, simply celebrated on Sunday. In Mainland China, its not recognized at all, and its business as usual.
But in Hong Kong, I see no signs of the Easter bunny, but while walking around this Saturday afternoon with Leon, I did bump into some sales girls dressed up in bunny suits, so today's blog photo is rather humorous to me.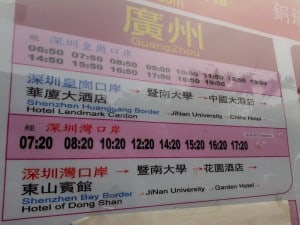 Religion has always been strange to me, my father is Baptist and my mother Roman Catholic. I was going to Baptist Church with the family up until I was about 11 or 12 years old….and I remember a fight in the family home about my mom wanting me and my sister to be Catholic and get baptized sooner (in Catholic Christianity, you're baptized as a child, but Baptists they wait until the teenage years). So I converted from Baptist to Catholic when I was around 12 years old…had a lot of catch up CCD Catholic classes, meetings with the Roman Catholic priest, and was quickly baptized to catch up with the other Catholics in the community.
As I got older, I think during high school years, I attended Church less and less. In college, freshman year I did find a local Catholic Church in Hoboken, New Jersey, but I only went for a few Sunday masses before getting wrapped up in college life.
Moving to China….well it makes it much more difficult. I have ran into some Christian communities in Shenzhen, China, but it seems underground. I am not familiar with how Churches are treated in China, but I cannot imagine the government likes them.
When I spend time in the Philippines, I am surrounded much more by Christianity. The team of workers there now are busy this whole week for Holy traditions, and its been rather hard to work with them. Filipinos definitely are very strict in their Christian beliefs, I think mostly influenced during the time it was rules by the Spaniards.
Life in Asia…again, during each holiday it make me miss my family and my home. I remember taking a trip to my grandparent's house after Easter Sunday mass and having easter baskets waiting. The hollow chocolate bunnies, the cadburry eggs, and those marshmallow sticky bunnies. But even being back in America, life is different now then it was when I was a child anyway.
Happy Easter to all, I hope the Easter Bunny left a nice big basket of treats for you. haha.