I remember the "Christmas in July" TV commercial when I was a kid, and always thought it was a funny and somewhat sleazy way for the local electronics store to drum up sales. But what it did make me realize is that we are halfway to Christmas! And thinking that way, it also made me realize that we are halfway through the year.
I'm sure at the end of each year we have all these big plans for the new year ahead, but many times we quickly forget them. Today I am going to drum up some of those goals and reflect on the progress. Hopefully this will inspire you to do the same!
Main New Years Resolutions: Learn Chinese
So my biggest, and more public resolution was to learn Chinese. I know, I have been in China for over seven years now, why start now? Well I have been slowly picking it up over the years, but now with a long term plan to be in China, with my new and awesome family here, I really need to invest in it. Secondly, I am working with Unchained Apps and one of the apps is Written Chinese – a Chinese learning app – so it is also market research!
I've shared there a couple videos and blog posts on how I learn Chinese each morning, and how I learn it on the go. The cool thing about making a process and a daily habit of learning Chinese, or anything for that matter, is you learn what works and what doesn't – and slowly work towards improving it more and more each day.
I have now gotten up to confidently knowing 400 Chinese characters now, I've been practicing my spoken Chinese with teachers on italki, and I have been quizzing myself with Memrise. And I use Written Chinese mobile dictionary to learn how to write the characters, and repeat the same character for about 3 lines of a Chinese handwriting notebook. Writing and understanding how to write the character makes me more confident.
What is really crazy is I am getting better at reading and writing than spoken! And before this year I was only working on spoken, not even trying to learn a single character. I will push myself to speak more to my Chinese family and on my day to day work. But honestly, I am speaking less english too, I am just learning to live without speaking much (crazy and futuristic sounding I know- but it is true!)
Overall I am happy with my progress in my new years resolution to learn Chinese. Though I should have set a more clear goal. So for the rest of the year , I hope to get up to 800 characters and able to pass HSK level 2.
Continually Optimizing my Productivity and Standard Operating Procedures
This has been something I started actively working on since last summer but has been supercharged earlier this year when I started more actively listening to a ton of podcasts. Topical MBA got me started with their awesome post on SOP / Work the System episode last summer, getting me to read the book by Sam Carpenter. Pat Flynn's podcast has a few great episodes on it too, mainly the Morning Routine. Then I got into Tim Ferriss's podcast on "optimal minimalism", with my favorite being so far Noah Kagan's productivity tips. I know a lot of people may think optimal minimalism is crazy, but I am living proof that it is working.
We spend so much of our time, and not only physical time, but mental brainpower, on unnecessary actions. I started journaling so many various work things I do each day, from my writing journal, to my morning routine journal, to my daily plan journal and I realize how much time I waste on thinking about things that really don't make a difference if you do them at all. I don't check email on my phone and all my emails now go to a helpdesk system and I have Mindy helping me out checking them.
I have it on my list to write a detailed blog post on productivity tricks I have learned, so stay posted on that. But I love being more productive, there have been days where I have finished everything on my todo list and had an hour or two to spare! I never had that before a few months ago, and it is almost scary!
Morning Routine
Mentioned above in productivity, but worth listing here separately – I've been waking up at 5:30am consistently, even on Saturday and Sundays, since the end of March. I was building up to that since maybe October last year, and I am trying to maintain this time. I have about an hour and a half routine that has been evolving but currently is something like this:
5:30 – wake up, get ready
5:45 – go OUTSIDE of the house for the routine, taking my morning routine bag.
5:50 – lay out yoga mat, meditate for 11 minutes, affirmations for 5 minutes, and do visualization for 4 minutes (20 minutes total)
6:10 – work out – currently using a TRX system, hang it on a tree in the garden, do 3 sets of a specific body type (upper, lower, core) for a total of 9 minutes.
6:25 – breakfast – oatmeal and peanut butter, and a hard boiled egg. Tea and water. Vitamin
6:30 – journal via "5 Minute journal" and a Google spreadsheet on which things I did that day.
6:40 – read for 10 minutes
6:50 – go back home
7 – read a children's book to Miles
7:15 – 7:45 / 8 – study Chinese
8am – 8:30 – breakfast with family
Having a system to follow has helped me make small tweaks and improvements to it over the months. Sometimes I have to skip one or two of these, or read to Miles earlier because I can hear he woke up earlier. But this is why I journal it, so that I can highlight where I made mistakes, or where I had really effective days.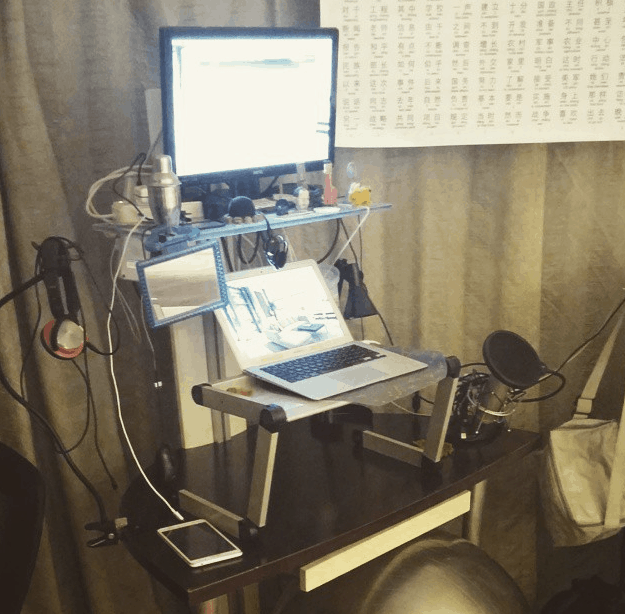 Less Is More
I think back to the Fight Club movie where Tyler Durden says something along the lines "You don't own things, things own you" and I do believe this as a true statement. Having "things" makes us have to work to maintain them, to store them, to "think" about them. The less things I have, the less I have on my mind. Especially when traveling, I can focus on my laptop, mobile phone, and a small wallet that has my house key inside. That is it.
Keep more brains pace open.
Following Four Hour Body Now Since April
Read the Four Hour Body book by Tim Ferriss in late March / early April and stuck to it. Its mainly no carbs and replace carbs with beans and not to drink calories, only eat them. I haven't weighed myself in a while, but I was about 85 kilograms when I started in early April, and now am down to 80 kilos – in three months. Not sure if that is a big deal or not, but I have had people noticing it.
I'm also just feeling more energized and maybe it is in my head, but my heart feel lighter and more free. My mind is more clear as well, but that can be from a lot of other things too. I wouldn't call this a diet, as I am going to try to stick to this way of eating for the rest of my life. Yes, that is a big commitment, but I'm getting older and I want to have routines, ha!
Have Read 27 Books So Far This Year
Below is a copy/paste from my Google sheets of the books I have read since Jan 1, 2015. Pretty crazy when I look back at it. The one that has had the biggest effect on me was Trickle Down Mindset, which luckily I read right at the beginning of the year. It has helped me change my thinking to not expect there to be an end – life is going to continue to be a challenge and a struggle for the rest of my life until the day I die.
Innovation and Entrepreneurship (currently working on)
Lord of the Rings (currently working on)
The End of Jobs
Where the Big Dogs Roam
The Ultimate Connector (Audio)
Bootstrapping Your Business
Time Management by Dan Kennedy
E-Myth Revisited
Startup Land
Meditations of Marcus Aurelius (Audio)
The Art of Learning (Audio)
Science of Persuasion
Hunger Games
Ultimate Sales Letter
Mr China
Invisible Sales Machine
Billiondollar Persuasion
Built To Last
Foolproof Persuasion
The Third Ear
The Art of Work
Chinese Culture
Four Hour Body
Creativity For Sale
Shenzhen: The Book
Zombie Loyalists
Trickle Down Mindset
Traction
Jab Jab Jab Right Hook
While some of these books I could have skipped over, a few had been on my reading list for a few years! Last year I think I only read about three or four books, the year before that maybe one! People, like me, always say we don't have time to read. But reading has helped me get my mind on the right track, focused, and learning more.
When do I find time to read? I read every morning for 10 minutes, and yes, some of these books I have finished by just reading them ten minutes a day. The fiction books I started to read based on Noah Kagan's tip on the Tim Ferriss show – to read that before you go to sleep to get a break from business. And the bulk of my reading is done on the weekend. I've even started to do audio books and while it doesn't "Sink in" as much as reading, it does help when I'm playing with my kid or wandering around the park on a weekend to de-stress a bit.
Rest of the Year
So what is the plan for the rest of the year? I hope to continue to improve and develop my skills and habits. Slowly but surely each day I think of small ways to be more effective with each process. I'm thinking about even going as far as having a personal uniform, a few productivity articles I have read suggest this – so that if you have the same sets of clothes to wear, it makes one less decision to make.
And yes, my wife thinks this is making me a robot – but actually I have been able to create and build more than ever before. By "robotizing" the regular repetitive tasks in our daily life, we free our mind to focus on the innovative and creative things in our day.
Hope This Inspired You!
I hope this inspired you to get out there and take small steps to improving your daily routine. Not only that, but set goals on skill development. Every morning when I write my journal, at the front page it has the skills I am focusing on, with a three, six, and twelve month goal for each.
But really, I know this sounds overwhelming, but the trick is to just start with one thing and if you like it, grow the habit of making routines and processes.