Been getting tweets, phone calls, emails since I blogged I am leaving Shenzhen. I feel the love! Its not that I am leaving FOREVER – but probably won't be here to much these next few months. Maybe back in late November.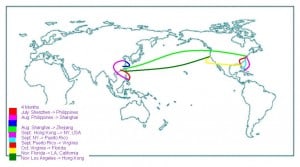 I am not sure if I have blogged it yet, but put on facebook and twitter feeds that I am going to USA from Sept 15 to Nov 11. I guess that 2 month window prompted me to think how the office and flow of things will go while I am gone. And I have been spending the past half of 2010 to decide what my long term goals are – both location and business. So here is the rough outline for my next 4 months:
July: Shenzhen -> Philippines – after July 15 I will leave Shenzhen, putting all my office and personal belongings in a rather small office I rented in nanshan. I already have a bunch of the items there already, have been playing around there these past few nights. I keep thinking of my inspiration from the "Lord of War" movie. I'll post a photo of it soon once its all cleaned up. But this will be my "base" of operations, with my files, "chinese artifacts" (I have many nice Chinese gifts from factory and business friends here), and other items I want to keep when I return.
Aug: Philippines -> Shanghai – Need to get back up to Shanghai. have some business people to meet. and want to meet Mike Song again about our ecommerce cooperation. I am tempted to spend more time here after I come back to China from USA in November….will seriously look into it more during this time.
Aug: Shanghai -> Zhejiang – most likely with Mike Song, check out marketplaces and factories in Zhejiang. He has been spending a lot of time searching marketplaces for new products to sell online – and I want to visit them myself. Also have electrapour and other factories for the bar products I am working with.
Sept: Hong Kong –> NY, USA – Return to Shenzhen / Hong Kong for a few days and then fly from Hong Kong to JFK airport in New York City! Man, I CANNOT WAIT to get back, by September it will be almost 2 and a half years since I've been back to the United States….so many people to see…..will be a bit overwhelming. Gonna travel in connecticut, New York, and New Jersey. See my homtown friends (from Hartford and New Britain) in connecticut, my coworkers and some business associates in New York, and then my university friends and other business associates in New Jersey. Will be exhausting.
Sept: New York -> Puerto Rico – BACHELOR PARTY IN PUERTO RICO! My boy from Stevens Tech, Tayan Patel, IS GETTING married, and one big reason I picked the date of Sept to Nov is based around his wedding. I would have preferred Las Vegas, but certain WIVES in our friend network wouldn't allow it (what kinda bullshit is that, I won't disclose the names of those certain friends….) Anyway, Puerto Rico will be fun, I never really spent much time there except a few hours before a Caribbean cruise years back. Will be a long weekend towards the end of September.
Sept: Puerto Rico -> Virginia – I'm not sure if I will do a round trip to New York, or fly directly to Virginia, but Tayan's wedding will be in end of October. Virginia is where he's living now, so at some point I will head down there from New York, or fly back from Puerto Rico.
Oct: Virginia -> Florida – gotta see my parents, grandma (love you NANA) and uncles. also, TONS OF MAIL is waiting for me. I have been getting poorly scanned copies from my dad called "scan001.gif" but its quite a mess. Will spend time with my accountant, and taxes….But can't wait to meet my family. Maybe even head down to Miami for a weekend.
Nov: Florida -> LA, California – I booked my USA ticket so that I fly into New York and return from Los Angeles. There is logistics warehouse I want to visit, as well as some business contacts. One of my all top best blog readers, Piotr, is also down in San Diego, and I gotta go stop by for at least a few days! Crash on the futon like good old times back in 2007!
Nov: Los Angeles -> Hong Kong – Then head back to Asia. Actually at this moment I am not sure where in Asia I will spend my time – Hong Kong, Shenzhen, Shanghai, Zhejiang, Philppines, Thailand are those that are on the frequently traveled / majority of business list.
Well, back to work, its almost 5pm and still packing, working on some web banners, pricing UK inventory, checking loadpipe IT system code and making new specifications. All on a days work…..