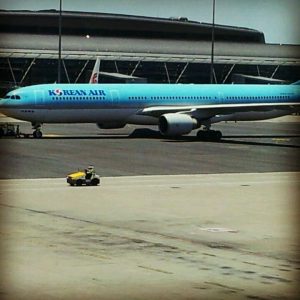 Seriously, I don't even bother trying to think I'll sleep on these 14 hour flights. I am so excited and my mind is going a mile a minute. And I'll be jet lagged anyway. So I use the flight to do a "brain dump" (thanks for that keyword Dustin!), cleaning up my notebook, writing blogs, reading books I've been meaning to get to. Airplanes are the ultimate offices! Passengers around me are amazed how I build an office in my seat, it makes good small talk too.
Going through my notebook I found a page from an inspiring phone call I had with a startup addict in Shanghai. He asked I don't use his name (why are so many people I talk to shy to use their name on the internet?) But I think the content of the conversation was so inspiring I'd type it up and blog about it.
Here goes my notes from my Shanghai business "mentor's" motivational phone call:
---
In life, there are 3 things that we need – desire, will, and knowledge.
1- desire – knowing what you want.
2- will – the hunger to get it, even when everyone says its crazy / impossible
3 – knowledge – not product knowledge- BUT KNOWLEDGE about themselves, who they are….their strengths and weaknesses and what kind of people they need around them.
People fear things that can't be done. Cannot live by what others say.
Nobody complains about things
cultivate your belief
get away from negative people – surround yourself with positive people.
Enjoy what you do. Something you are good at.
If you want to make a lot of money – YOU HAVE TO WANT to make a lot of money. And making money is important.
Disruptions happens all the time. opportunity happens at any time.
We have to be ready to take it.
---
I don't know if I agree with the money as a goal and a motivator, but I wanted to keep it in the excerpt to have the raw content.
But I really like it – DESIRE, WILL, and KNOWLEDGE the last part is awesome – knowledge about YOURSELF and your skills – and being able to find complimentary people around you to round it out.
And the DESIRE, the vision. So many of us do not have a clear vision…I really also need to work on it. I believe my vision is about bridging USA and Chinese internet and e-commerce industries. I believe we all have that question sometimes
What is my purpose in life
I think those who are successful in entrepreneurship, business, and just life generally, have a clear vision about who they are and what they want to get out of this time spent on earth.
Will is extremely hard….as I think anyone who really is passionate about something will hit speed bumps. And those bottoms in your career, your business, your personal life – those are the times that you see everyone around you trying to convince you to give up and try something else. Get a job, go back to America, change your business idea.
The will to keep going on, when everyone thinks you should give up, and even maybe you yourself question yourself – this exact time is when we test ourselves the most – and those times we survive longer than others can is when we will start to hit success.
In life, I have learned, its about sticking with something longer than the average person is willing to stick to it. If you can last longer than the majority, you will reach success.
I'm in LA now, will post about that later.