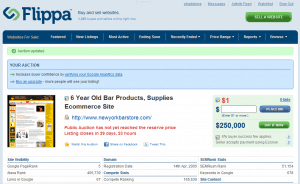 Kinda have played with the idea in the past, blogging if people wanted to buy / partner with newyorkbarstore, mentioning it to a few close friends or business colleagues in the bar products industry. I have listed it on a domain selling website flippa – 6 Year Old Bar Products, Supplies Ecommerce Site Page rank 5 domain, decent google rankings.
But I just have to face facts…I am going to stay in Asia for the foreseeable future, and running a USA business while here makes no sense to me. I have talked to call centers, stayed up all night myself for months on end, talked to possible USA sales partners, just nothing that makes me feel like "I can sleep at night" on Asian timezone. My friends always ask – "how did I get into the bar products business" to begin with?
From front to back this business is built, suppliers, logistics, and customers….it is definitely vertically integrated. It just needs the attention and care of someone on the America side, with a portfolio of other USA ecommerce businesses. Maybe someone who wants to run a small business from their home, with a warehouse in the back and some part time staff.
There are also so many possibilities to build up this business…..but I am not in America….I almost stayed behind in New York when I arrived back there in September 2010, looking to open a retail store / distribution center, but then more nyc warehousing issues….I was convinced by many during those rough days in New York to take that return ticket to Hong Kong and think things over when back in Asia.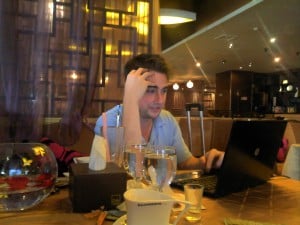 Just seems I really see myself sticking in Hong Kong, sure its expensive…but its free (free information) on the internet, and I can easily travel within southeast Asia as well as internationally. Seems like the best center of the world in the current economic climate.
I am still emotionally attached to it, but by hitting the submit button today…I know it has to be the best thing. I have to start fresh. Leon "cheerleaded" me through it today at a cafe, photo he took is on this blog.
Normally I would type more…..but really just want this to be a shorter blog post