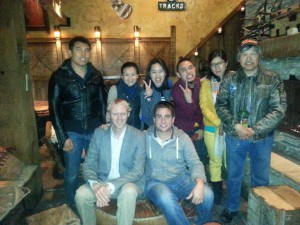 Typing this email up on my airplane from San Francisco to Seoul, Korea. Airplane rides are always kind of like a "transition" from one place to another, one state of mind to another. And I've been digesting the last 1 month in USA. Definitely an invaluable experience, and as always in my life – a mix of business and personal endeavors.
Confirmed to Staying in Asia
My expertise and my skills now are based around my being in Asia. Sure I hope to takes trip to USA and other destinations in the Western world, but I feel my future belongs in Asia.
Economy Still Looks Weak, But Getting Better
Lots of my friends still don't have jobs or are in jobs they're not happy with because they don't have other opportunities. But it seems better now than my last couple trips in 2010, 2011.
Validation I'm Building the Right Product for Social Agent
Talking to users and business people, collecting tons of feedback. But for the most part – I am more confident I'm building the right product for the need. Still getting through some updates and modifications in the user experience and flow – but can't wait to release that in early March now that I have validated it even more!
Social Agent – I know its changed a lot since I started – is a "odesk for sales agents" – helping sales reps get connected and paid for sales to clients looking for independent sales reps.
Need Representation in San Francisco and other parts of USA
– link app annie article
May take more trips to USA, but even still, I need to have someone there who has their ears to the ground, at the events, on a business development fashion. I was in San Francisco at an event or two, and seems like many startups from around the world have marketing, sales, and business development people there to go to events, trade shows, and generally "hustling" for that company. Talking to some people about it now, and hope to make some more formal arrangements soon.
Sigh of Relief My Parents and Wife Get Along
Still a rather strange thing that I got married before my parents ever met my wife Wangxia. But hey, guess it happens to those doing international business living overseas the majority of their time. It felt so amazing to see them all get along. Its like closure…and building more confidence I'm making the right life decisions.
Timezone still an issue
Trying to work with my team in Asia while traveling in USA was a real challenge! I'm looking for ways to better manage timezone differences and workers in various locations. Technology and online project management tools help, and its way better than it was years ago – but still nothing beats being on the same timezone as people you are working with. This global economy makes it almost impossible to have everyone you're dealing with on the same timezone – but man, it was hard to deal with the development team while traveling in USA – but still it was so refreshing to be able to quickly jump on calls with users that are in America.
How my friends viewed me after not being back for 3 years!
A few bullet points on overall feedback from friends and family and colleagues since my last meeting with them a few years ago:
1) Calmer – but still stressful – yes I'm working on getting better… not getting as irritated and restless easily.
2) Healthier – (maybe code word for fatter) But yes, I am trying to eat healthier (though on this USA trip I ate out all the time) by eating home cooked food while in China. Hope to work harder on eating healthier
3) Still look the same – yea, well I also think most of my friends also still look the same! Some say maybe we won't show our age until we hit the 40s.
Being back in USA always makes me reflect on what I've been doing, where I am now, and where I want to be. But I'm going forward more and more confident of who I am and where I want to be – which feels AWESOME.