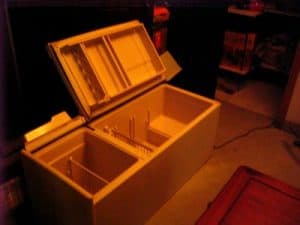 Today was a funny story between my landlord and me – my building had a scheduled power outage on Friday (all day, had to work remotely) – and when I turned the fridge back on it started smelling like someone threw up…..cleaned it out, let it dry out, etc – all weekend was trying to figure out what was wrong. So monday morning the landlord comes over (like an extended mom!) and she says the fridge smells because I never clean!!! She is speaking Cantonese to Melissa….I knew what she was saying…she was kind of funny, and she has been like a mom while I'm in China…but damn that upset me! I moved the fridge out onto the floor and laid it out down….she left but the thing was leaking! now i'm here waiting for her husband to come look it over….we need a repairman!!!! ughh…fight factories, landlords, banks, governments, it never ends!!!!!!!!!!!!!
Just a few recent stories and experiences….could go on forever.
* Friend aka "Noodles" talking about his 250k claims
* Police banging at my hotel room
* Guy getting ripped off in Taiwan for 150k
* Old white me here dodging US tax evasion
* Makes if you can make it in NY, you can make it anywhere sound like B.S.
* Old filipino sounds like dmx
Keep on pushing…..remember its the experience, its the learning….