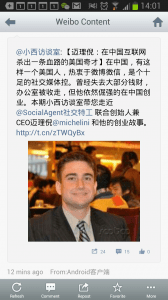 Seems in Asia everyone picks my headshot with this suit! This Friday morning I was welcomed with notice that my interview had been published on a top Beijing tech news site – SooToo.com. Christina Lee was the interviewer, and I had the pleasure to get to know her while she was in Shenzhen a couple years ago, before moving to Beijing to be a tech writer. She is moved by my "pursuit of happiness", and the development of my latest venture, Social Agent, and had been asking for an interview quite persistently.
So as I like to keep a record on my blog here, I have done my best to use a mix of Google translate and my own "human translation" and pasted below, those interested in seeing the original Chinese article can click
http://www.sootoo.com/content/415945.shtml
Blaze a New Trail in China's Internet World

Author: Li Xiaomin (Christina Lee)
Date: May 3, 2013 at 10:20 am Beijing Standard Time

About the "Siu Sai interview room West" series: China's Internet activity of foreigners, they are independent, have their own unique understanding of the market, and gradually they find their own piece of heaven and earth.

The Chinese market has great potential, although the competition is fierce, but there are still more and more turning back foreigners brave to the blaze a new trail in the land they coveted. The majority of foreigners come to China and that this was not their wish, they are expats paid by their international conglomerates to spend some of their time in China. And there are many passionate young people messing around, and ultimately chose to give up and return to their home country.

Language and culture are insurmountable gap

  迈 理 倪 , Mai Li Ni (Michael Michelini) walking in the active start-ups in Asia gathering over the years, in his view, language and culture is always foreigners doing business in China biggest obstacle. Mai Li Ni said, the business environment in Asia is still relatively primary, many foreigners come to Asia business and base in Singapore or Hong Kong, where international atmosphere is established, without communication barriers, which is separated by a river in Hong Kong to differ materially from the situation in Shenzhen, China.

  Mai Li Ni says most start-up companies abroad find it difficult to win customers in China, because they failed to do in-depth customer development in the Chinese market. They should first take some time to find suitable local partners, to test the market, not jump in to fast, and finally are too quick retreat. After the launch of an innovative idea, it attracts a swarm of copy-cats, but also greatly hurt the enthusiasm of entrepreneurs in China.

  And foreigners in China are less willing to use local social media such as Sina Weibo, a micro-channel social tool. Even in English social media (as its blocked in China), foreigners will refuse to use, and most Westerners are only willing to connect in and foreigners circles, do not want to go into the Chinese people's social circle. This very detrimental to their business in China. "Many foreigners are very stubborn, unwilling to change their ways, imagining that China will change, without having to adjust themselves to adapt to the vagaries of the market." Said Mai Li Ni.

Foreigners bring opportunities to the Chinese social networking – and still there are so many chances for Westerners to connect with Chinese – its still nowhere near being tapped out.

  These foreigners are stubborn, yet Mai Li-Ni has brought new opportunities. Mai Li Ni with in the Internet market, the Sino social media and international business knowledge, as well as finance, technology, web design and international supply chains work experience, in 2012 set up a start-up company – social agents (SocialAgent.me). Mai Li Ni is full of social media (blog, weibo, weixin, twitter, Facebook, Linkedin…), this venture can be said is combined with the interest of Michael I + resolve commercial development the practical problems encountered.

  Social agents is a SaaS platform, specifically for foreigners doing business in China to find a suitable partner. Social agent First of all, according to the keywords and foreign customer preferences on Sina Weibo for customers to find a suitable Chinese customers, and its customer list into the tracking system, and finally send someone to manage these customers. Online from the middle of this year after it has been 15 paid subscribers is still growing. Users from various countries, real estate, education, consulting, import and other fields.

How to manage Chinese employees?

  Mai Li Ni, April 2, 1981 Born in Connecticut, USA, with a master's degree in technology management from Stevens Institute of Technology and a Bachelor of Science degree in Engineering. In 2004 he started on eBay do kitchen and bar supplies trading, then contacted with the factories in China.

  2007 factory business trip to China, Mai Li Ni came to China, later relocating to Shenzhen in December 30, 2007. Began the road of entrepreneurship in the import, export and Internet and SEO. Mai Li Ni said: "I want to prove I can succeed in China". Mai Li Ni admits, for a foreigner, it is very difficult to manage a Chinese team. "Chinese people love to learn, so I have been training my staff, I found that this is the best way to manage and attract Chinese employees, I always give them training search engine optimization, social media and e-commerce training."

  Mai Li Ni's management of Chinese people is an intellectually big test, "A lot of Chinese people want to do their own business, so they learn from me, until the time is ripe to have left me, to set up his own company. While I am advocating Chinese to do entrepreneurship, it still makes it hard to manage a pool of Chinese talent not easy! "

  Mai Li Ni and other entrepreneurs also fail. 2010 was his most difficult year for China, he lost most of his money, the office has also been taken away, he will have devoting himself to help the staff to find new jobs.

  Mai Li Ni convinced that SocialAgent.me will be a platform that can change the way foreigners do business in China in the past, this year he will try to make the operation and product more stable, break even cash flow, and help more foreigners doing business in China. In 2014, Mai Li-Ni intends to have SocialAgent.me enter the international market, conducting business on facebook and twitter. Mai Li Ni said: "We want to succeed, you must first taste the taste of defeat, I will go all out until it succeeds or fails completely bankrupt!"
Lol, awesome writing Christina! Now, enough blogging for me, time to get back to work!