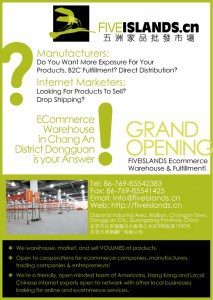 For those of you following my blog (life), you saw I got another crack at doing business in China – but this time I have the 3 plus years of getting my ass kicked to know how it goes, went through "initiation", was a white mouse in a maze for a few years….may have not gotten to the end of the maze to claim my cheese, but I am much better equipped now. I call these years an expensive, experience oriented MBA which allowed me to grow substantially as a person and a "businessman".
So after a few months with the new Dongguan ecommerce warehouse project, we have opened up officially after the Chinese New Years. We will be advertising in a lot of English language magazines and websites in China, targetting foreigners who are doing business in China and want a "helping hand". I know first hand how difficult it is, and no matter how hard you try to make things clear when dealing with a factory or logistics…things become urgent and crazy last minute.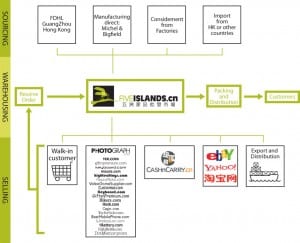 One of (MANY) the goals Five Islands hopes to provide is ecommerce warehousing and fulfillment. Both on a B2B and a B2C level. Those not familiar with those terms, B2B is Business to Business, and what we would provide is providing an address for your China factories to ship the goods to, and we can consolidate everything for you, either to your warehouse or single client its being exported to….OR, keep some of it in our facility and ship all, or parts of it to other of your clients in America, Europe, or wherever. B2C is shipping from business to consumer, meaning normally 1 small box shipping directly to end customer via postal mail.
Again, this is really exciting stuff, I am talking to a bunch of my foreign friends here and all have various reasons to utilize this facility, such as collecting goods from multiple factories and re-branding. They are also interested in saving money on USA warehousing. Normally people buy high quantity of goods and then ship all of it to an expensive USA warehouse where it will sit for 6 months to a year.
It is claiming control of your logistics and supply chain. – Instead of just shipping all the goods directly to your end warehouse or a single customer, you can take stock in China and hold back for future orders. Maybe speculate that you have some rising inventory costs and want to build inventory. We allow you to be flexible.
It is allowing USA buyers who sell internationally to route their orders from China directly to their European clients, without worrying about giving their factory the customer contact information.
It is allowing Western buyers the tools needed to SELL in China – I have previously posted that we are looking for foreign products to import and sell into China, this ecommerce facility has all the tools required, and we are talking to a few companies already, some in Hong Kong, some in USA.
So these are all exciting things, and I am finding the best people to offer this service to is foreigners inside of China….because they realize the value of this the most…..and are already saying they can do it for their customers too, so may as well let them actually do it.
International business is sloppy….trying to make it more…..clear….and more options. at least this will give some extra tools.