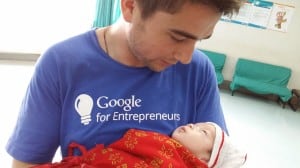 This is what makes life living for. I promise it is one of the last "baby update" blogs for a while and I'll get back on track. But really, this blog has always been titled "Happiness in Pursuit" and right now, this is a major milestone.
After 26 days since my first born son, Miles, was born, I finally got to hold him in my arms. The photo in today's post is literally the first minute after I held him for the first time….the feeling – words cannot describe. This is my new life's journey. He needs me and my support for the next 18 years! I need to take care of him, I never want to feel so helpless again like I have felt in the past 3 weeks waiting for him. It was a living nightmare.
I have also recorded a video here – to really capture how this went down. Originally I was recording it for fun, then when we had to go into the ambulance I recorded it for evidence in case something horrible happened, and then I started to think I should make this a video for my friends and family back home and around the world. The youtube link is: https://www.youtube.com/watch?v=PO5m_MZxVqc or watch it embedded below:
Life is really precious, amazing – so fragile, and we need to appreciate every day we are on this earth.
Oh ya, and I need to earn more money – so that my child never has to go into such a horrible hospital situation again – and not in China – hopefully never again. Hong Kong is the target from now on!