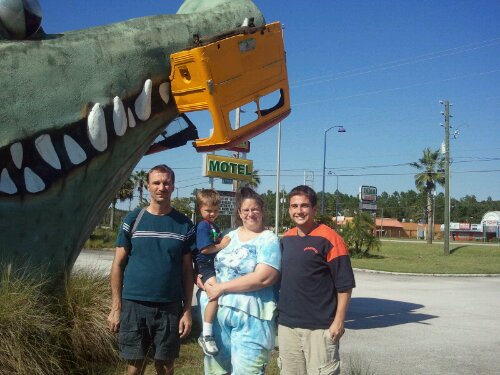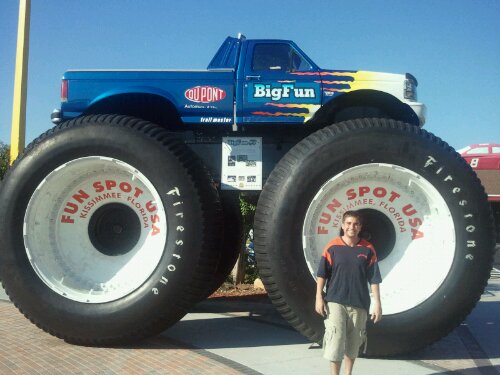 Man, it could be a full time job re-connecting with my family! Jeez, I don't have the biggest family in the world, but there are cousins, aunts, uncles all over the place – eastern florida, western florida, Connecticut, Vermont, milwakee. Grandparents from both sides were in NY and CT to start, but after some retirements and lifestyle choices people ended up north and south and Midwest.
But it was great to see my cousin Alicia after so many years, I think it had to have been at least 15 years ago I had last seen her – now she is married to Scott with a 3 year old son named Scottie. We re-connected after her father, my uncle Bill, pointed her to my blog, which led us to connecting on facebook, and her following my story down to florida. It was graet to see them, she is about a 6 hour drive from my parent's place – so we picked a middle ground – Orlando, to split the driving distance.
Picked to meet at a zoo, but ended up the zoo was out of business!! Haha because of this we went down the road to a local amusement park and bought a bunch of tickets to take go-karts and other fun rides. Isn't this what life is all about? Spending time with family, kicking back, and having a great time! I posted a pic on facebook directly from my mobile, and my uncle, her father, Bill up in Connecticut commented on it rather quickly – technology is amazing these days…..
Hope to meet up with Uncle Bill in Connecticut in a few weeks, and maybe/ hopefully my aunt Nina and cousins and their families and children from Vermont. Just exhausting, not enough time in life to go up and down the Eastern coastline meeting with friends, family, and having a wedding in Virginia for Tayan Patel Oct 24.
This is why the world is amazing me, at least the world I have created, working from anywhere, where the main factor is face-to-face meeting and relationship building – because what ties people to one specific location these days? With internet and communication tools, if we are able to use online collaboration tools – it takes a bit of time to setup, and you have to stay on top of it to keep it in check, but life is amazing. I only see more and more people and businesses doing this in the future. I al blogging this from my phone!!!!
Why can't some of my family live in New York or New Jersey? That's where I'll be, and I guess I'll have to make frequent trips north and south from there to keep in contact with them. Wish people can come to visit me once in a while! Cheers, a great Sunday afternoon trip.