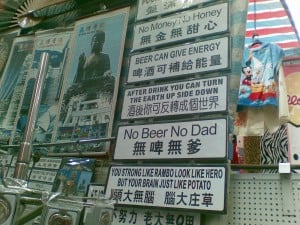 Wrapped things up with my old friend hasan, he is heading up to beijing tomorrow from hong kong, and i returned back to shenzhen. Its been at least 4 or 5 years since i had seen him, we had gone to Stevens Tech together, were in the same fraternity (Delta Tau Delta) and then were roommate 1 year in New York City after graduation (2003 – 2004 in NYC). He seemed more mature and older, he will be starting as a management consultant for Booz & Co in October. He reflected on how I have changed, and have some funny points about me:
I look the same , weight, baby face…..yup, i guess i agree i look about the same as i did in university, still got the baby face….maybe though when i was in university i looked 15 years old when i was 21 and now i look 21 when i am 29 years old. he did say its not bad to look younger then you are, but for me it normally hinders how i standup to older businessmen…..
But maybe also looking young has saved me! I am often overlooked as some college kid, and especially in some dangerous situations, I believe that its saved me! Never know, but I gotta use all my
Stress level – yes,,,,,same MIKEY from university (my nickname at the fraternity house was MIKEYYYYYYYY!). Taking credit overload and signing up for every club in school is still the same….except this time its companies and business……running around hong kong with accountant meetings, banking setups, just non-stop hustle.
In university I would carry 1 backpack all day with me, all my books for all classes, my gym clothes, laptop. I would avoid wasting time going back to my dorm and chit-chatting. I used every minute of my day maximizing what I had to get done.
Yes, he like many, tell me i need to take a chill pill and calm down…..i need to stop doing so much, pick my battles, and focus. This is an all too common feedback….i know i should listen, but let me finish my usa trip first.
Why do i put everything online? Haha, i think he was one of the guys in my fraternity that made jokes back when i first registered michaelmichelini.com in 1999 ….i remember those ridicules during the frat meeting…..but hey, i don't mind living my life online. He warns me a bit watch out putting too much online…..but hey, i'm an internet guy and hes a mba management consultant, so to each is own.
But hey, its good to get someone I haven't seen in so long to tell me how (or how I haven't) changed since they last saw me. I'm expecting to see a lot more of this once I go back to USA. Going to get some very interesting perspectives on family, friends, business and life!