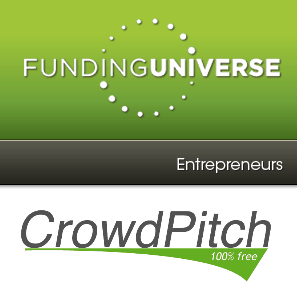 Was invited by a Stevens Tech friend to FundingUniverse.com's CrowdPitch event, the first one its had in the New York City area. It is quite an interesting concept, like the "American idol for Entrepreneurs" they have a panel of judges that moderate and critique the entrepreneurs pitching their business, with an audience voting (with fake money) on which of the companies should get the funding. The prize isn't actually real funding, but instead its services and support of up to $5,500usd from the event's sponsors.
There were 6 companies pitching at the event, in various industries and current positions in their company. The moderator spoke that he has started 9 companies, 3 which failed, and 2 that did really well. I guess its just about NOT GIVING UP. Its about accepting failure in certain startups, and moving forward, learning, staying positive, building up a network of people and contacts for long term business success.
These are the 6 companies that presented:
Avidtrips.com – started off, talking about a new age travel website that helps younger, adventurous travelers find easier ways to buy trips overseas, using a USA escrow account that won't pay the overseas travel agency until the trip is completed. Does seem pretty cool, and fits perfectly to what I am doing in life now. Talked to the CEO briefly afterwards, look forward to this coming live, its just a couple months old.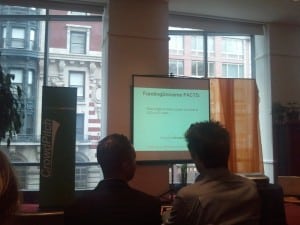 Dr Chrono – an ipad application to allow doctors to serve their patients FACE TO FACE, using the tablet apple Ipad. They actually sell the ipads with their service, getting on a good side with Apple and trying to move the "slower to adapt" doctor market into a tech-advanced product. A bit of a challenge I would say, but they have experienced developers from Bloomberg, so wish them the best
Globaltrade.net – an import/export settlement system. Similar to my original loadpipe.com idea years ago, this is a very hard to execute idea to allow international business transactions to happen over the internet.
An online platform for IP (patents) – allowing inventors and corporations to connect to buy, sell, or license patents and trademarks. A bit touchy with making sure people don't steal ideas, and lawsuits to the platform don't come about on loss of secret information on patents pending.
Naana Networks – a b2b supplier of restaurants and hotels / distributors who want to offer a quick, turnkey solution of a catalog of restaurants to their clients (hotel guests, casinos, travel websites)
Trace – rotoscoping service – this is for film companies who want to outsource the enhancement and modification of their videos to save costs and focus on their core business.
Maybe one day I will be up there….just wonder, I have to focus, and I have to make a product that is SCALABLE. And barriers to entry. And the right people, and uses my experience, knowledge, and contacts.
Lets just see what happens. I am not giving up the dream. Later in the afternoon I met Shane, a founder of taxstream, over drinks. He said I cannot rush things, I have to find the right thing. And not be quick to take investors or partners. I do agree with all of that. But at least he said some things I really took home!
BE STUBBORN!!!!!