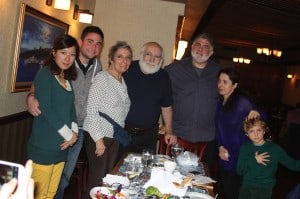 This effects from this blog continues to amaze me and influence my life! Last Friday afternoon I received a call from an unknown number in New York. He said he is my long lost uncle on my Russian grandmother's side – I have to admit, as much as I try to be open minded, I was a bit skeptical – but he did mention some facts that made sense. He was in New York city and said that he has been reading over my blog and sees that I will be in New York this weekend and wanted to meet up!
I had to get into a lunch meeting, but over a few more phone calls – we set up Sunday lunch meeting at a Turkish restaurant in Columbus Circle, Manhattan, New York! My friends were a bit skeptical about this – but I'm up for an chance I can to find out about my long lost family ties!
So Sunday we walked up Times Square to 57th street for our lunch meeting. I was able to meet my grandmother's brother's son and grandson there! They had lost touch with my uncle Billy (I call him Bill) for maybe 20 or more years! They had been searching online and found my blog.
So many amazing photos they shared – and pieces of my family history that I never knew. My Russian grandmother (on my father's side) had passed away when I was 4 years old. I vaguely remember her, mostly remember her sitting in her rocking chair in my house in Hartford, Connecticut.
They also filled me in with some stories – the fact that my grandmother came from Russia to Harbin, China to Seattle. Found out more of my family on that side were artists and entrepreneurs.
Also they said many generations back, the family tracks back to a great-great-great(etc) grandfather that owned factories in Moscow, Russia. And that he moved the family to another country for better medical and insurance? That he must have been really well off at the time to be able to do that.
Life is truly amazing, to find long lost family like that….and to catch up on hundreds of years of family background over a lunch in Manhattan!
Later I connected them to my Uncle Bill – and he was solo ecstatic! his email reads:
Email date: Sunday Feb 2, 2014

DEAR MIKE,
I WILL CONTACT PETER SOON. IS HE INTERESTED IN DOING BUSINESS WITH YOU? I FORWARDED YOUR ORIGINAL EMAIL TO ALICIA, NINA AND ADELA. I'M SURE ADELA WILL BE VERY EXCITED ABOUT YOUR MAKING CONTACT WITH MY COUSIN. IF YOU DO GET HIS OR PETERS EMAIL I WILL FORWARD IT TO ADELA AND I WILL BE ABLE TO SEND COUSIN JIMMY MORE INFORMATION THAT I KNOW ABOUT OUR DNA.

I ALSO WANT TO FIND OUT FROM HIM ABOUT SOME OF OUR ANCESTORS THAT HE MIGHT BE FAMILIAR WITH.

I CAN'T THANK YOU ENOUGH FOR MAKING THE CONTACT WITH MY COUSIN AND ALSO YOUR COUSIN AND HIS SON.

LOL, XOXOXOXOXOXOX TO WENDY,
UNCLE BILL
Also over lunch they said that I am the ultimate connector. Yes, I am so passionate to be a global connector. Keep up the hustle everyone! And don't be shy!