Is it good to be passionate and emotional in the workplace? Many may say passion is ok, but emotion may be an issue. But how to separate them?
Looking at one's own personal pro and con – I am sure my passion and emotion gets the best of me. I have to be more level headed. I have to separate friends and business.
Watching a bunch of DVDs last night, one was called "taken" – its a great movie, I would definitely recommend watching it.
The basis of the movie is a retired secret agent is extra-paranoid about his daughter going on a trip to Europe. Everyone thinks he's over-reacting, but actually she gets kidnapped SAME DAY she arrives in France.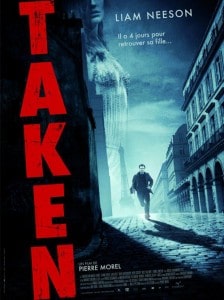 anyway, so he goes to France and talks to some of his old colleagues there. They help him, to a point, but actually they are in on the crime (indirectly)….. so he has to make things personal, attacking their wives and using that to get information.
Then when he finds the area his daughter is held captive, he asks for her back. The "bad guys" say its not possible, until he shoots up the place. the mob-boss begs for his life to the father, saying – you have to understand, "it was not personal, it was business"….
The father doesn't think so, and executes him coldly on the elevator floor.
If that a mix of personal and business?
Sure, its a movie. And extreme…..But there are other cases, weekends seeing staff, do you talk about work? Do you forget work and just be friends? Seeing your friends you are buying from, or selling to, at a party – how not to talk about business?
Especially with the explosion of social media in today's internet environment. We see the facebook profiles of our friends. they are talking business. at the same time they are talking a bout getting drunk at a house party.
Then, when you have a dispute in business- do you delete them from your "social friends" profile? So strange.
I just keep going on, but would like some ideas here. Also, today is the first day I integrated my blog into my facebook account – hope to get some more activity / readers.