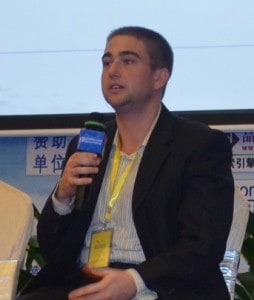 Still makes me laugh, and a bit worried at the same time….discussing Facebook, Google+, Twitter inside of China – where the country blocks these online social media platforms. But again, these export-based internet and ecommerce businesses cannot allow politics to get in the way of them making money – and as social media becomes more and more important for SEO, traffic, and overall sales for an ecommerce company, they need to study and master it even more. I have been saying social media would get to SEO and most Chinese (hey ,also gotta say Americans / westerners too) thought it was just playing, not real business building.
So I have been getting to be known as a "social media guy" in South China. Blogging regularly, twitter, weibo, facebook etc. I had 2 questions mainly to be asked during this Shenzhen ecommerce panel:
1, Everyone is talking about social media marketing now, what do you think is the most powerful social media weapon. Can you name some and tell us the advantages and disadvantages?
This question got me thinking of how I realize Google is becoming more and more like Baidu….with the Google+ social media tool. So I said if your goal is traffic and rank in Google, then you need to use and understand Google+ before you work on twitter or Facebook.
Why? Because now Google+ has launched Brand pages, and it is putting its Google+ content into its Google search engine. So if you want more traffic to your website, and get better SEO rankings, then the quick way is to focus on Google+…
But I personally do not like Google+ and I do not know how long it will be paid much attention to…maybe it will drive traffic away from its search engine, as people start to realize Google is putting its own content in the search results…and Facebook continues to grow.
My personal favorite English social media platform is twitter, and that will also help your search engine rankings, but first would have to recommend Google+
2, Which social media platform is suitable for B2C ecommerce businesses?
Facebook looks most easily transferrable into a ecommerce store and / or platform. I would say that this is best to integrate into your ecommerce shopping carts, best for collecting feedback, best for showing all your product photos in their photo albums and fan pages.
I was the only "white guy" speaker, and my answers were in English. I hope the audience understood what I was talking about.
Still, it makes me laugh all this talk about selling to America and foreign markets when we are all talking in Chinese. I think in future events, they should have more Westerners there, telling these Chinese ecommerce companies what they like and don't like about buying from Chinese websites.
Soon I hope to bridge more China and USA events….2012 will be an interesting year!