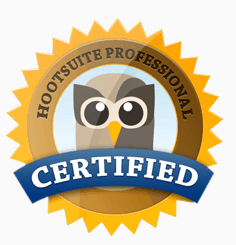 Sunday night, and I'm here taking the hootsuite social media certification. But hey, its what I am passionate about.
The Hootsuite Certification Program went through 4 basic topics of its program, "hootsuite" as well as strategies for social media platforms such as twitter and facebook, also discussing klout.
Hootsuite Basics – just general overview of hootsuite, its features, how to connect your social media accounts….pretty basic…
Moving beyond the basics – a bit more interesting, showing how they integrated klout optimization to view your followers, suggests you make a twitter list for these higher klout tweeters. Also explains how to create search columns, and also keyword alerts.
Teams & advanced options – one cool thing about hootsuite is the multi-user version (not in their free offering), as I have only see this feature in cotweet before. You can also build up a twitter account and then transfer it to another owner, so if you are contracted / hired to build up a social media campaign, you can get it started in your hootsuite account, and then transfer it to the client afterward. Also different user levels for sub-accounts for managing each social media account, staff, etc.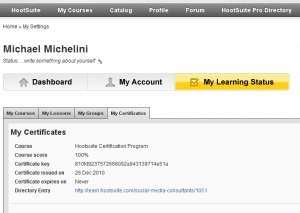 Advanced Uses & Strategies – really cool reporting, integration with google analytics. They have their own URL shortening tracking like ow.ly and ht.ly so if you use the hootsuite URL shortener, you can see how much traffic comes from the links you share, on a daily, weekly, monthly, or 3 month basis.
One thing, the course costs $27usd/month! I think thats a bit strange, as its a 1 time test, and then to remain an approved specialist, you have to keep paying the monthly fee.
Seems the people making money aren't twitter themselves, but these 3rd party tools and training programs! Still, I think its worth taking the class, freshening up your social media skills, and learning some new tactics and strategies.