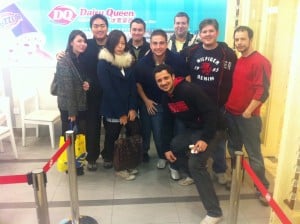 As a new year approaches, I'm behind on my blogs (my buddies remind me as they check up)…but seriously I am working harder then ever this year. As I said, noticing more and more expats leaving China while there is a fresh batch of new ones come in (like doug)….
And then there is the Christmas holiday approaching…the foreigner friends I have here going away for the holidays….WHILE I AM BUSIER THEN EVER – and it is not with people in America…
I am getting more and more contracts with Chinese businesses.
I think its the reaction of the changing global economy. Maybe its also because finally the Chinese businessman has seen I have survived over 4 years here…and I'm still alive. Still holding my own…sometimes beaten down. Gaining my respect, putting in my dues like a pledge in a fraternity. Being The Man in the Arena
I WILL NOT GIVE UP
There is a nut to crack here. Even though I am warned again and again by foreigners as well as Chinese friends DO NOT TRUST CHINESE BUSINESSMEN…that I am a white mouse, a lab rat, that is entering their Chinese maze and will go for the cheese at the end, but get poisoned cheese, or hit a dead end, or get tired and give up….I like the challenge.
I have gotten a few offers by foreign companies, both inside of China as well as outside of China – to work with them. Not to trust doing business directly with Chinese. But this is why I am attracted to it because other say it is crazy, that it is impossible.
My twitter buddy Jacob Yount who is moving back to America after 11 years in China, just tweeted an article from the Wall Street journal about a failed Chinese shoe brand entering the USA market, an excerpt below:
Li Ning's troubles underscore the difficulty China has had in creating new global brands to match its manufacturing prowess. Some have made progress, such as computer maker Lenovo Group Ltd., though it was helped by the purchase of International Business Machine Corp.'s personal-computer business in 2005.
THIS MEANS OPPORTUNITY for people like me. An American marketer inside China….4 years dealing with the culture, the issues…the miscommunications. Understanding the fears Chinese have entering foreign markets…the bad assumptions they make.
I had a skype call with Ian Borders of Lifestyle business podcast (now Tropical MBA) and he agrees I am in the right position for China brands to expand…for internet marketers in the west to get consignment terms in exchange for chinese brands to grow internationally.
I'm re-positioning past month now….representing the Chinese associations internationally….
I am onto something. Maybe its not clear to those reading this blog, or drinking beers with me on the weekend…but this new consulting / training / strategizing for Chinese companies here in South China is a perfect staging point for huge opportunies in 2012.
So my buddies here in Shenzhen who are moving on… Steven.me (attila) to USA, my Russian Canadian buddy Vlad going to Bali and Rafael, heading back to Brazil tomorrow (his blog is coming soon)….
I'll be thinking of you guys in 2012….but I'm in China for the long haul
I'm preparing for a wild ride into the next year…and I'm not even taking a break during Christmas. Signing new consulting deals tomorrow, training staff teams…..and making some marketing strategy reports over the weekend.
hustle, (MikeMo, you still reading bud, that was for you! )
My friends, my family, thanks for your patience and understanding.