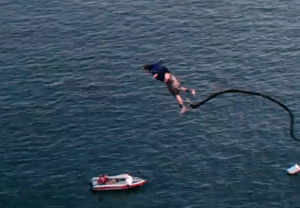 YOLO (you only live once) I have never been bungee jumping, and adding the extra risk of doing it in China, why not! What started as a normal Sunday afternoon, I went to a late lunch w/ Mark + YunChung and then decided it was such a nice day out to go for a walk (instead of working in the office all day like normal). Their startup is Let's Go Out!, and are using this as their first activity quwan.ba/activity/5071554b27f64970384ec93e Bungee Jumping!
They filmed me…man, it was my first time – from this pier in the ocean. I had no idea if I am supposed to spring forward or just fall forward (I was afraid I would swing into the tower itself!). The Chinese worker was speaking to me, but I couldn't understand it , and finally he just pushed me forward!!!
The bungee jump was a sponsored event from LGO (Let's Go Out) and I screamed LGO!!!!! as I jumped.
The boat picked me up at the bottom, gripping a pole I was pulled down to the boat and rode to the dock.
Anyway, I needed this….typing this and my ankles hurt a bit and I still feel the blood rush to to top of my head. Need to mix it up in life….this was the perfect rush to get me energized.
Now its Sunday night, typing up this blog, planning the week ahead, and catching up on tons of emails! Lets rock! LGO!