This longggggg China New Year holiday drives me insane – as I'm sure a lot of other business owners (chinese and foreign) – it still amazes me how a country of such size and current global influence can completely shut down – so many of my favorite restaurants are still closed. Things should start opening up again friday and the weekend, and then China will be back to business as usual.
I hope my pictures aren't getting too boring – more empty office pics below. but this is about all i see each day as I come to work during the holiday…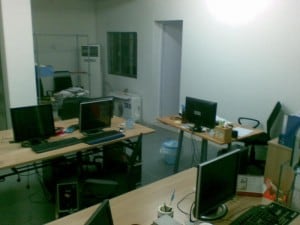 But in a way, a holiday this long makes everyone reflect on what they are doing with their lives, and what they want to do in the future. So many discussions with people on chats and in dinners these days about how they like or dislike their job, the way their career is going, the business they are in. Its like a fresh start for some, as they don't return to their old companies after the holiday.
This is scary for business owners, as some factories and offices have some of their top workers not return to the office after the holiday….without even a notice. The worker just decides they need a change in their life, want to stay in their hometown with family, it doesnt even have to be about money! (well, usually it is, heh)
But this holiday has allowed me to focus on USA business. I'm on 3rd shift (almost) waking up around 1 or 2pm in China, and working until about 3 or 4 am. Afternoons are emails, accounting / financing, and planning. Then normally a dinner or drink with s ome friends in shenzhen – then back to the office to crank out some phone calls or USA hour type work.
Wondering if I should stick on this schedule after the holiday or not……..
Seems more and more I do USA business – its just what I am strong at, and I should focus on my strength. Let the staff manage their projects in the morning, I come in after lunch, check on progress, do my emails and planning with them. Grab dinner, then do USA calls.