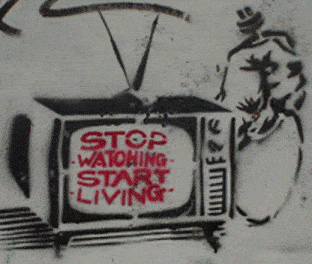 I guess I never really was a big TV watcher, back when I was younger, maybe in grade school, I remember getting my first computer, a 25 MHZ PC (I am not so techy now, back then it seemed easier) and Brian and William helped me overclock it to 33MHZ and upgrade RAM. Anyway, I would work on my computer, get AOL or Juno email, dial up to local bulliten boards. Play video games. The computer was in the dining room, and it was angled such that I could see the TV in the living room. My sister and parent's would watch evening TV programming, and normally I would have my eye on it 25% of the time, to be somewhat social. I remember complaints from my mom and sister that I wasn't spending enough time with them, always on the damn computer, and maybe that was true…..but I always felt like TV "drained my brain"…..
I didn't want to BE TOLD WATCH TO SEE, WHAT SOME GUY THOUGHT WAS SUPPOSED TO HAPPEN NEXT IN THE EPISODE. At least with a video game, or a computer and email, I could create my destiny. One of my favorite book series was "choose your own adventure", I remember during some Art Classes in grade school, Ms Discola would read it outloud to us while we worked on our school projects. For those who don't know, the way "choose your own adventure" books worked was that during a critical decision in the book came up, you had choice A or choice B, and each had its own page number to flip to in the book to see the outcome of that particular choice. It was kinda cool in a group setting, because we would raise our hands to vote and the winning vote Ms Discola would flip to and read aloud.
Maybe its because I'm a control freak that I like it this way, maybe that's why I LOVE THE INTERNET. Because the internet, you can read anything you want, 10% , 50%, 100% of it, bookmark it, click another link, watch a video. And its disrupting advertising. TVs days are numbered, soon you can just use a monitor, or Bluetooth a program to your TV big screen to watch a movie or a youtube channel.
INBOUND vs OUTBOUND. PUSH vs PULL.

Its awesome, big media companies and advertisers are getting shook up. They are losing their power from telling us what to watch, when to watch it. But then again, being back in America, I see that the internet still is influencing people to "tune in" for tonight's episode of some TV program. And chat about it on facebook, twitter, etc etc.
Being in China, I really was cut off from all this TV. And in Florida, man every commercial is some politicial bad talking another politician, or a lawyer convincing you to call him to sue a company for injuries. Its actually kinda disgusting for me to even watch.
Maybe there is some positive in TV – it gives people a common topic to discuss – I remember in school or at my dayjob people would discuss last night's episode of "blah blah" or the sporting game. Maybe I'll be less social back in USA if I don't watch the same TV and sports games as my friends and colleagues? Oh well!
By not watching TV, you save so much time, you have so much more control over your time. I guess I am a workaholic as well, and that by not watching TV I am able to work more….but hey, I love to learn, and watching TV sure as heck isn't the fastest way to learn. I don't think anyone can disagree with me on that one. Watching TV normally makes me feel dumber afterwards.