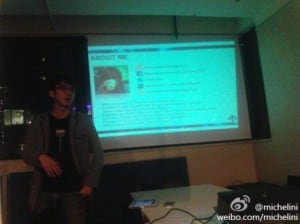 Earlier this week I was able to get to Hong Kong for a couple days, and by luck I happened to attend a Startup Monday in by startupsHK, at the infamous Boot.hk I'm always hanging out at. This was was quite awesome. Kenneth Kwok one of only a few web analytics experts in Hong Kong / South China, was there to do some training and speaking.
I used one of my favorite new tools, evernote, to make notes and am sharing them below.
Different groups in Hong Kong for those interested in web analytics:
web analytics wednesday – hk web analytics
digital analytics association hong kong
digital analytics summit
today, talk about Google Analytics
besides others – web trends is good but expensive.
trying to get google to offer google premium in HK
5 steps of digital analytics
standard report – traffic data, content data
advanced report – segmentation, funnel
optimization – channel effectiveness, conversion
experimental – split test, multivariate testing
business insight – ROI, customer behavior
version 5 of google analytics just came out. new interface, new structure
other analytics tools (besides Google analytics) – web trends, core metrics, omnivore, social bakers, post rank, twitalyzer, crazy egg, woopra, flurry,
New in the Google analytics upgrades:
connect with webmaster tools
also social engagement – from google + statistics, as well as Facebook like and tweet sharing.
also new is real-time google analytics
also new in google analytics update – flow visualization
even in China, there is conversion optimization, for example Chinese are liking less cluttered websites, less advertisement websites now
what about weibo, have API? similar to Facebook API?
The analysis exchange program
new initiative help the web analytics industry. only 40-50 people in hong kong, so locally there aren't many people.
in china, though, people come from all over Guangdong to get to a meeting.
objective is to get more non-profit organizations, local startups to connect with local experts in analytics.
they need projects, they will sign NDA, will not share the data. many local companies will not do that.
currently a closed group on Facebook.
3 month program only a few hours of your time.
benefits of mentors – contribute hours to society. its free. and want more local experts.
questions:
getclicky does show heat map, where google analytic does not
how about google signin problem not showing referring keywords now – that is only for yourself being logged in.
does it show uptime of your website? like chartbeat has. there is also pingdom
do you have to have an image download as a way to track? actually now many are using javascript
normal bounce rate – 30-40% on normal site, but blog is different 60-70% as its only 1 page
---
So those are my notes, again these meetups are awesome