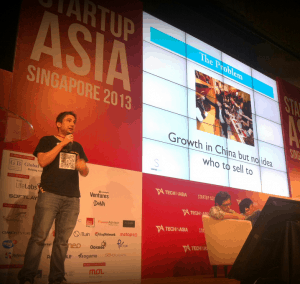 Saturday afternoon typing this from a casino lobby in the Resort world, Singapore. So much moneyflow in this city! My first time to Singapore, and man was it an amazing, fast-paced 3 day excursion.
I wanted to announce earlier that I was attending / pitching, but the startups selected to pitch at Startup Arena (Tech In Asia's pitch competition) had to keep it hush-hush until the actual event, so hard for me to do as a social media addict!
The 3 co-founders of our startup, Social Agent, came out to represent – Chris Li, Doug Pierce, and myself. We also invested in a startup booth – which seemed to be the best investment ever! We were swarmed with investors and early adopters and supporters of startup businesses signing up for our service.
We will be adding a few new clients from the show on-boarding them to Social Agent next week, and I have been following up with a few investors this afternoon. Really exciting, highly recommend that trade booth for future events at Startup Asia!
We pitched on the 2nd day (yesterday), the 2nd team of the day two batch of 10 startups. We were proud to show off the product and customer development of our business, and Tech in asia immediately covered each team on their blog – http://www.techinasia.com/socialagentme-helps-sense-business-chinese-social-media/ which is pretty awesome and helpful.
We got the same questions as usual – how can you get the Sina weibo data, and how secure is your relationship with them, will Chinese tech companies copy you, how do you get your clients, and how do you get clients for your users. All of these questions we had solid answers for, and it boosted our confidence in our startup business.
The winner came out to be "Lots of Buttons" – another Hong Kong based e-commerce website selling wholesale buttons. 2nd place was a chinese gay dating website Xunta, and 3rd place was Puddding – women's crowdsourced fitting fashion website.
I'm really happy for the winners, cool it was a Hong Kong based startup that won. There were so many amazing startups who poured their hearts and souls into their businesses building some really beautiful and amazing technology products – I can't imagine how hard it was for judges to pick only 1 winner!
Tonight is my last night in Singapore, 7am departure flight tomorrow back to Shenzhen! Will be a fun-filled week of action and followups from this amazing Singapore startup trip! Jiayou!
About Startup Asia Event
You can read the full details via – http://startupasia.techinasia.com/sg2013/
but here is a quick excerpt:
Organized by TechinAsia.com, Startup Asia is a 2-day conference organized for entrepreneurs, investors, media, and people across the Asian tech community.
– Insightful speakers
– Quality startups and investors across Asia
– Honest content about the industry
Audience breakdown in 2012: Founders/Developers: 512, Investors: 158, MNC Rep: 148, Students: 49, Media: 32