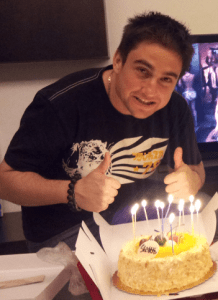 Birthdays are kinda like New Years Day – reflecting on the past year and looking forward to the next. My focus has gotten much sharper – and I am excited for my 32nd year on this earth.
My birthday last year I was going to a ton of events, e-commerce and startups, and doing a bunch of full service consulting projects for ecommerce and chinese social media. I remember having a birthday dinner in Coastal City with the co-organizers of Startup Weekend Shenzhen (Kawai and Nik) as well as a handful of other friends – thai food. It would be a few days later that we had one of the most awesome startup weekends ever with over 100 awesome entrepreneurs inside Tencent's Shenzhen headquarters.
I got more focused, hit some breaking points with various projects and almost became an NGO. Instead it turned into Weibo Agent startup in about May.
This birthday, I'm typing it up on a laptop in a subway on Shenzhen – heading to Guangzhou. As much as I want to announce what this trip is about, I have to wait until about Thursday to post online.
But its all about business.
Had a great call w/ Kevin Dewalt yesterday morning and asked about separating my personal life from my business life- and he frankly said its just not possible for people like us – startup entrepreneurs need to breathe life into our "babies" our ventures and help is grow up until it doesnt need our close attention.
Had a nice dinner last night with Chris Gormley and quick drinks with Marshall, down in Shekou. I was tempted to plan a party, but just doesn't make sense now.
I'm so focused, and I'm so excited – and that makes this an amazing birthday for me.