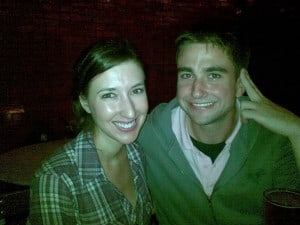 Doesnt feel like its been 2 and a half years since ive been here…..spending the past couple days here it feels like i just left yesterday……
Since i am jet lagged (strange because im used to switching from day to night shift so often) i have been waking up early around 630am and not able to get back to sleep so i walk around….
I stopped by my first new york apartment i rented back in 2003 after graduating stevens tech – a small studio apartment on 24th street between 2nd and 3rd avenue…..didnt go upstairs, but saw my good friend Jose who owns and operates the shoe repair store on the 1st floor. He remembered me and asked where i had been….he was amazed to hear i had started a company out in china…..he is getting older and hopes he can retire soon. He works 7 days a aweek, opening the store and closing it – working there himself. He explains that we have a hard time as independent businessmen – to make an honest dollar in this world is hard….he complained about cheaters and crooks being the ones who really made the money……and he just hopes his hard work in the shoe repair shop will allow him to retire soon. We shook hands and i left, while he went back repairing shoes…..
Walking more in the streets of new york, i passed by old friends apartments, stores that had changed names, memories galore….
Later in the morning i met up ken chen about internet business stuff….how local web is exploding….using mobile phones to get around and find new places…..amazing. Grabbed burgers in Shake Stack in madison square park.
Hit up technetron electronics in 29th street to talk about electrapour and bar products warehousing….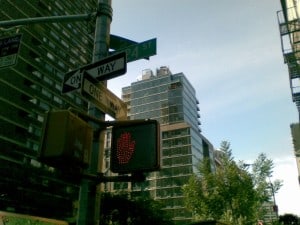 Just seeing the hustle in new york….jewish shop owners yelling at spanish truck delivery guys in the street corner…..everyone on their mobile phone hustling something, buying , selling, wheeling, dealing……the rush of business surrrounding me……feeling maybe like my late grandfather gelindo michelini must have felt when he came from italy for new business opportunity….
Also my good friend Josh Griffiths has been growing his new york jiu jitsu studio nicely and seeing him do exciting things as he is letting me crash over his place the past couple nights
Later on yesterday I went to visit my friend Dave at a new bar he is involved with on west 40th street called Sky Bar – he is marketing director there as well as working on a new nightclub management system. I've known him a few years and he is doing well, also has a lot of various business opportunities on his mind.
Checking into foursquare.com my friend Christina Lascalea contacted me yesterday afternoon and we met up for drinks at B-Bar on bowery and 4th. She is doing well, used to work at MTV but now doing more independent PR. Getting ideas of changes in her and her friends, weddings, moving, new people working coming from her home state of Texas. I was very passionately showing / selling my internet marketing (SEO) skills to her and her friend Amanda Grace explaining the convergence of internet marketing and social media. She is interested for the bands that she does PR for. I just love it!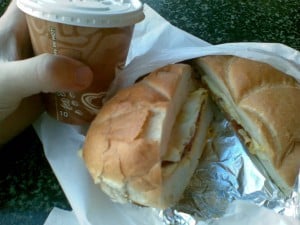 Just a long, exhausting day yesterday, brain on overload. I just love the hustle, crashed over Josh's place in cooper union again and woke up 7am again – jeez only about 5 hours of sleep – but excitement and maybe jet-lag wouldn't let me go back to sleep.
Working hard on emails and appointment setting in the morning – able to grab my favorite New York breakfast – bacon,egg, and cheese on a roll with a tall black coffee – just inspiring me to work hard, think faster, FOCUS to achieve the goals.
Took a trip downtown to Wall Street…..felt like a few years ago commuting to the office at Deutsche Bank. Walked up the subway stairs onto broadway and wall street – past the NY stock exchange and into 60 Wall street NY headquarters of Deutsche Bank. Still love the trading floor atmosphere – saw my good friends Brian Sharkey, Justin Ramos and some others from the trading floor of distressed debt and high yield. Some new faces, and some old faces gone, but it looked pretty much the same as I had left it back in march 2007. Still, it's a great job and career – but not one I could live with.
And just this afternoon headed up to upper east side, met my good friend Sean Murph from murphguide.com talking about business and cross promotion opportunities. He is moving along well, advertising for lots of bars in new york. I am just looking and considering strategic alliances – I need more USA representation as I'm all Asia based at the moment!
Heading to Chinatown for a Filipino / Chinese wedding – haah, back in USA for 3 days and I'm going to Chinatown for a Chinese wedding…