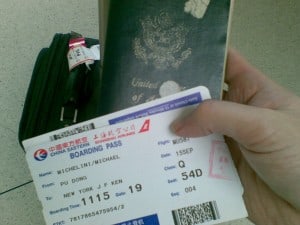 Haha, im back to USA! What a trip…..in the back of a jumbo jet with 4 huge chinese families…..kids running around, babies testing their new vocal cords…..so much for getting sleep on the plane.
Arriving in nyc…..45 min late……the customs line was outrageous….like a circus, literally – there must have been a plane from italy arriving at the same time……tons of chinese and italians confused as to which customs line to enter – EVERYTHING WAS IN ENGLISH ONLY:…….some chinese translator started helping to split up the mob of confused chinese ……and then i was able to access the us citizen line…which was nice and smooth compared to non-citizen / visa line …my god that went out the door…..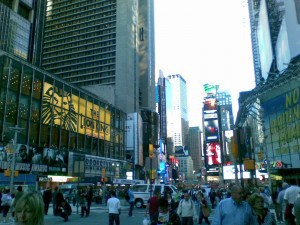 I just love the NY attitude, the workers swearing about some story of a crazy situation a couple hours ago,……everything in english only…everywhere….hearing the russian, italian, chinese, korean, and all other sorts of languages…..just the hustle.
My turn up at border protection was pretty cool…..i must have looked like hell…no sleep for 2 days….surrounded by impatient screaming chinese families, the customs police officer asked how u doin' , i cracked a smile and said – "A lil bit tired man"…..stamp, pass, go…..
Getting my luggage and passing into arrivals….jeez the mob of people. I had my friend mike (who i never met in person before) meeting me….but its now 430pm and i said 2pm……
My chinese mobile doesnt even let me dial out……so i need to get a quarter (coin) for the payphone as i cant find my friend anywhere in the globs of people….
No change….so i get a coffee, using some us dollars i got yesterday in china from the office deposit refund (yes, they gave me dollars…they knew i was going to nyc), and i offer the cashier a 20usd bill
"U aint got no smaller bill sir?"

"No"…I reply
Attitude…..just gotta love it here…but i got a knot of 1usd bills backk…slamming my coffee i start looking for a payphone…man, i guess everyone has mobile phones cant find a payphone for a while……enter in his mobile number….it asks for 1usd to call him – and coins only….i only got 25cent.
So i take one of the many 1usd bills and hunt for 3 quarters…..
Coffee shops got no change, currency exchange doesn't have exchange….a bagel shop didnt either, but i asked 2 cops and they gave me 50 cents…..lol, what am i a beggar???? Jeeez,
Still not enough, i decide to call newyorkbarstore support as its a local ny number and costs 50 cents…..talked to louie at newyorkbarstore…my payphone speaker was not coming out clearly….so i am yelling into it in the middle of the airport – can u call mike at 201………..and tell him i arrived,,,,,then call me back on this payphone my number is 718,,…….
Standing by the payphone, telling anyone who came to use it to d another as i was waiting for a callback……..finally the phone rings and its louie……he tells me my friend mike was waiting 2 hours and finally keft, and to meet him in his office on 29th street in manhattan……
Well, i was expecting that, just needed confirmation before i went on my way……
Writing this now from the A train to manhattan…..just heard an overweight woman yelling at some guy down the train about needing F'ing money for feeding her kids….he is yelling back….i just go about my way typihg this blog entry on my china mobile,…..to post later
Next stop – manhattan – get a SIM card, meet my friend mike in his office on 29th street, and then get to joshs apartment tonight to get some ZZZZs