The year 2020 is coming to an end, and many of us have gone through dramatic changes.
One small thing I have done – when I had to flee Philippines and left most of my possessions behind – one was a TRX set for my morning workout.
Been doing basic stretches in the meantime – but then was lucky enough to run across my friend Matt at 3X Bands and good some resistance bands.
Will show quickly some routines – and my son is even using them.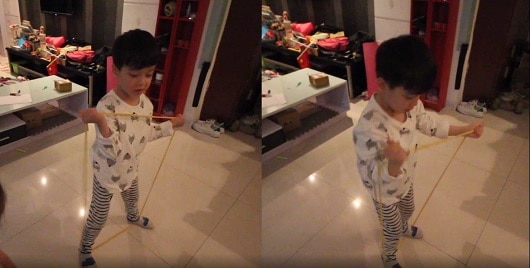 My favorite part is – they are super portable and light – so I can carry them with me on carry on once traveling starts up again.
There are 4 different bands in the set, and a door adapter – which I use often to connect to a door and do various exercises. And Matt even had the 20+ workout moves you can do on the bands and on the carry case.
Watch how we're having fun with it:
My Workouts
I do 3 sets of 3 different exercises, with a 45 second break between each set.
Here is my weekly schedule:
Sunday – Chest Day
Arm stretches (I put the band behind my back and hold it with each hand and push out left, then push out right.
Push up (with bands using door hook)
Tris (with bands using door hook)
Monday – Core Day
I don't use bands currently for my core, just a yoga mat
Tuesday – Legs Day
I put bands from my neck/back and stand on them with my feet
Squats
Leg extensions (left leg in first set, right leg on second set, on third set – no bands and equally exchange each leg)
Calves (lean against wall and with bands under back of foot and to my neck, I then exercise my calves)
Wednesday – Biceps Day
Arm stretches (same as Sunday
Pullbacks (using door add-on – pull into my back)
Bicep curls
Thursday – Core Day
Friday – Legs Day
Saturday – Upper Day
Arm stretches (same as Sunday and Wednesday)
Pull backs (same as Wednesday)
Arm extensions (I pull the band from my chest to fully extended hands as wide as I can – for a full upper body exercise)
And repeat this weekly
I have been using this routine since about 2014 / 2015 – with TRX , and then when my TRX got left behind in Manila, with simply "air" – but now with the resistance bands, getting more "extension" rather than simply "air stretches"
Special treat for you
Will be using these even once the world opens up again and can travel.
But for you – no matter if you have the resistance bands or not – you need to keep active. Keep exercising and making things happen. I have caught myself also getting negative news and negative thoughts in my head – meditation and exercise and focusing on work to add value have really helped.
Grab a special coupon!
Use the coupon code disc15 and get 15% off
Get your 3x Bands here.
What is the difference of these resistance bands?
Please note the key difference with 3x bands are the 33 printed routines on each bands. This helps you learn and remember the right moves for different muscle groups.
* Please note, Mike will receive a small commission if you purchase from this link – but you also get a 15% discount – win win!
Get your 3x Bands today!