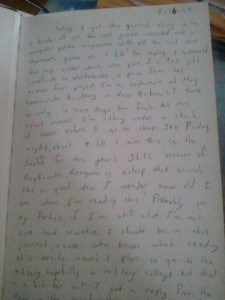 Been digging through my old files and found my 3 journal books and 1 dream journal book – as well as some personality tests, and an old hard drive with my college memories on it! I flipped through the journals, considering having someone type them up for me. I remember the day I bought that blank book, hearing of businessman and investors keeping a daily journal somewhere had struck interest in my keeping one as well. Here is my first entry ever:
May 16, 1997

Today I got this journal along with a book of all the card games invented, and a computer games magazine with all the cool new software games, on 1 CD! The money I borrowed from my sister, which was part of a $25 gift certificate to Waldenbooks, a prize from her science fair project. I'm a sophomore at Mary Immaculate Academy in New Britain, CT. There is only 10 more days, then finals. At this exact moment I am sitting under a stack of tables before I go to sleep. Its Friday night, about 5 till 1am. This is the staff training for this year's JLTC (junior leaders training camp) session of boy scouts. Everyone is asleep, that sounds like a good idea. I wonder how old I am when I'm reading this? Probably in my forties, if I'm still alive. I'm not sure how secretive I should be in this journal, cause who knows who's reading this right now! I plan to go to the military, hopefully a military college, but that is a bit far out. I got a reply from the Navy in the mail, with a cool Navy Seals patch. I got a stupid computer virus, the stealth_b! I'm learning to drive now, and going to Patz Driving School in Newington. That dumb law where you got to have a permit for 6 months before you get a full license when under 18 is really annoying. I just completed HOBY (Hugh O'Brien Youth Foundation) in February. That was a lot of fun, but I will never forget what happened in that 4 day experience! What memories. I hope I will never forget, well its 1am, and I think lights out are coming, so I'll catch you later!

Saturday, May 17, 1997

Its 12:40 at night. Hans is gone from camp, sneaking off to see his girl. That is pretty nuts! I can't wait till this campout is over, cause I want to play that demo CD. Tomorrow I leave here at 11am to go for my sister's confirmation. I can't wait till school is out. I got to catch up on my sleep! Life is so weird, but ain't it so unexpectable, it's great if you're lucky!

11:15pm, 5/18/1997 – Sunday

Damn I'm tired. Got back from sister's confirmation at 8:30. Left the house at 3! Left camp at 11:30, supposed to be 11, but my dad waited in the wrong spot where he'd pick me up. Set up a tripod this morning, pretty big. When we took it down it almost crushed me. COOL!! Saw my grandparents, uncle Gary, uncle Steve, and Aunt Nina. All were at confirmation. Saw Melissa Melluzo there also. She spoke in front of everyone, that takes guts! Reason we got back so late is cause we went to Chowder Pot IV for dinner. I drove my Uncle Steve's escort GT 1988 5 speed from my grandparent's apartment building to the restaurant! Did real good. Getting a lot better with a standard. Oh yea, Hans got back last night at about 3am. Didn't get caught, but didn't get sleep. Why does tomorrow have to be Monday….sleeeeeppppppp…….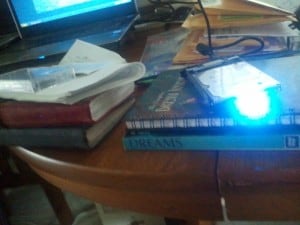 Haha, maybe it isn't a good idea to have this all typed out online! Flipping through some pages I am a bit emotional about gossip in school, struggles with school elections, crushes. I was really rather open on my journal entries. But it does remind me the bullshit involved in high school and growing up. The "bubble" and the added pressure for no reason from piers about being the cool, best dressed, top sports player.
I love personality tests, I have talked about the DISC personality test method, and learning about yourself, your strengths AND WEAKNESSES will help you grow as a person. And never stop learning….I know I am not a detail oriented guy……I know I have focus problems – but I'm a pusher, and I like to think I can motivate people. My personality tests normally say I am a dominant and influencial (DI from DISC) which means I'm a head strong and a "sales" kinda person. At first I didn't believe it- I remember when I took this personality test I thought I was more shy and "nerdy" but as I've grown up…I think I realize…yea I am a pushy guy that gets things done and will do almost anything to sell my idea to others in order to get the job done.
But maybe I should take the weekend to go through these 3 full books of my journal. Its awesome too, because I kept stubs and receipts from memorable events – like my first ticket on the Berlin Turnpike, Dave matthews concert, printed out emails.