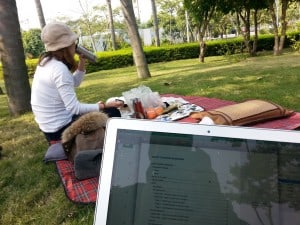 Every 365 days everyone gets excited for another year for the books and another year to start. A clean slate.
I believe life is all about learning about oneself, what he/she likes and is good at, and the people he or she wants to spend their time with. I do believe I've gotten better at controlling my life and my schedule – and in 2014 I invested time in learning 2 new tools.
Not Using Email as my "To Do" – Implement GTD
During the end of 2013 I started hearing GTD (Get Things Done) and using Evernote as your "inbox" of actions. You can watch the video series on TheSecretWeapon: The no BS approach to personal productivity which combines email, evernote, and the GTD workflow.
It has really changed my work habits, lowered my stress, and create my workday around ACTIONS instead of checking email for work to do. I break up tasks by phone call, emails, home errands, online, reading, reviewing, and writing. When I am in the environment or mood to do 1 of these types of actions (waiting for a meeting and only have 10 minutes, do a few emails), I GET IT DONE.
Definitely work investing time in to learn this.
Making a Detailed 2014 Year Plan
A second tool I've spent the past 5 days brainstorming, reflecting, and completing is Forever Jobless: The Definitive Guide to Accomplishing Your Goals, which is a 29 page pdf workbook to help you define what you want to do with your life, what are your dreams, writing down all the types of tasks you do, and making a daily agenda and yearly calendar.
Another one definitely worth looking into.
My 2014 Plans
Well, as one gets older, and also gets married and has a kid, life becomes a bit more predictable. But for those who know me know that I am not going to go the normal route.
The way the ForeverJobless guide breaks it down is in 4 quarters.
Also, to note that I went over this with my wife Wendy – and modified it a bit. Not living the solo life anymore.
Q1 (Jan – March 2014)
Wedding
USA roadshow – build up awareness for Social Agent
Create solid workflows, KPI for team
Signup guides and email campaigns
Q2 (April – June 2014)
Baby will be born (expect date: June)
Social Agent being in full scale mode.
Decide future of GloblaFromAsia podcast or not (based on metrics)
Q3 (July – September 2014)
More regularly go to Hong Kong. Work schedule between Shenzhen / Hong Kong
Make steps towards Hong Kong investment visa (or decide about renewing China work permit in November)
Q4 (October – December 2014)
Have fully functional, non-centralized product development and marketing team primarily in Asia.
Educational plan and financial structure for my child
And yes, those who looked at the 2014 worksheet, I really did map out dream house, dream car, and dream vacation. I do believe writing this out helps make things a reality.
My Dream House, Car, Vacation
At the request to a reader, and my not being too shy to share – here is what I wrote down on my goals worksheet: