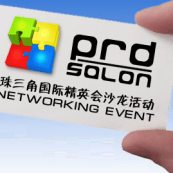 Last night Network PRD group in Shenzhen re-ignited the meetups after taking some time off (last event I see is November 27, 2010 – EUCCC 10th Anniversary Charity Event – The Kempinski. David Shomaker wanted to bring it back and asked me and 9 others to volunteer helping promote and organize a new series of monthly events.
This was the "new" first one, Thursday June 16th, and I would say overall a success. David organized it to be from 7pm to 8:30pm with a few company / personal introductions and then a feature speaker.
Mingling and cocktails – Get to spend time TALKING, trading name cards, this is what people love to do! I think this is the main reason people go, not to hear speakers or company presentations. But yet, the speakers are a good reason to get people out.
Company introductions – This time mostly was the 9 volunteers to help organize, and I was able to discuss the shenzhen ecommerce meetups and let people know they can attend those one Saturday afternoon each month.
Monthly case study – this time was a new corporate recruiter (headhunter) talking about ways to get new clients and keep clients happy finding good workers for their company.
10 minute keynote speech– This time Profeessory Edward Tian, 94 year old Hunan native, about his amazing life and history of Shenzhen. He learned English at 9 years old, invited to USA in 1981 to speak on family planning, and was invited to Shenzhen in 1988 by the Chinese government to teach English.
Question and Answer session – open forum to get help from experts in different fields.
help desk to tap our network – this was pretty cool, a table was setup, one chinese speaker and one english speaker, for people to come up and list questions or services they needed. Later it will be posted on networkprd and people can contact them to help out!

The event is 100% bilingual and DJ Nimbus was there rocking out some jams! Very classy event, I'm glad to be one of the volunteer organizers (helping with the social media promotions) and love to meet more people.

Its just when is networking too much networking…..
More photos coming soon, once people give them to me!